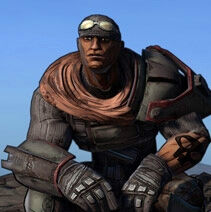 Hey all, TylerSmith7 here! This is my custom Roland build, hope you like! (Rate it!)

== Secret Weapon==
View on Official

Skill Tree Calculator

Starting Skill

Scorpio Turret
Gain the ability to deploy a Scorpio Turret that automatically fires at enemies. Also has a shield that can be used as cover. Turret has a few seconds before it disappears. [20 seconds.] Cooldown: 100 seconds.

Roland

Tier
Infantry Tree
Support Tree
Medic Tree
1

5/5

5/5

1/5

5/5

0

5/5

2

0

0

0

5/5

0

5/5

3

5/5

0

0

5/5

5/5

0

4

5/5

5/5

0

Totals
20
21
15
Required Level: 61
Yes, This Requires the DLC to complete.


==
==

== Reasoning==

Why did I pick these skills? This set-up creates teh epicness of teh scorpio turret! (It allows you to PWN everyone when you throw the turret out!)... But also keeps your guns working modestly. Most of scorpio's skills also have great effect on allies close to it. You can't really worry about ammo refills and health kits while this beast is out! Along with that, it has maxed burst fire, maxed damage, and highest-speed rockets! This is a fun build whether it's a solo mission, a co-op, or a party!
== Rate it!==

Please post your thoughts, improvements/changes, and a rating of percentage (1%=FAIL, 100%=WIN)
im gunna go ahead and say from....50-60%. you REALLY don't need to have both of the turret recharges on, it just isn't worth it. they cold be spent on something better, for example (if you're REALLY gunna stick to your turret like glue) , you coould spend it on getting the faster recharge. it means that A: you don't have to worry about dying while that thing is charging and B: you can pop out the turret, hide behind/ away from it, recharge FAST, and get back in there! although, my opinion is heavily biased..... i am a bit of an adaptable soldier guy... UnStaBLe SpY 23:22 (GMT) 29/05/2010
50% Personally I can't go without stat and quick charge for survival. I find that 2-3 points in supply drop keeps me full on ammo and stockpile is useless when I have that. Revive is fairly useless also because your teammates have to be close to your turret. It looks like a great turret and support build which isn't my forte, but I know I can't stand sitting back and letting my turret and my teammates kill. Freed23 21:30, April 22, 2010 (UTC)

33%, personally having played Roland from time to time I find the Scorpio Turret to be very unreliable. Limited Range, Despawning upon down, and forcing you to be stationary for the bonuses really hurts you in the long run. Most of the time you want to be mobile and dodging as much as possible to avoid damage and increase your survival. Just personally speaking, I would most definately take a weapon orriented spec over this. Only because your weapons are always reliable, downed or not, no matter where you are. I've heard bad things about the Scorpio Rockets since the scorpio turret shoots at the target not where the target will be or the ground. Might be fun to mess around with in single player fighting anything but Crawmerax. FlyingSquirrel 21:38, April 22, 2010 (UTC)
0% it sucks... you've skipped one of the levels in the skills.
Actually, he didn't. Ten points, no matter what tier it's in, will progress the skill tree.

That said, though, in terms of personal kickassery for a solo/co-op experience this ranks at a regretably unimpressed 35%. There are some strong points, but as has been pointed out, the Scorpio is too unreliable to rely on exclusively. Also, there is no excuse for the points wasted maxing out Cauterize and Aid Station. While both skills are, arguably, useful during co-op, they are more or less worthless solo and nowhere nearly as useful as Stat in terms of keeping both yourself and your allies alive.
Cauterize is best when capped off at 3, and Aid Station is best avoided entirely as it takes away from using the Scorpio for what it does best - splitting enemy fire between two places. Which would be important considering that no serious effort was taken to increase personal survivalability by investing in Quick Charge or Stat.
Also, drop Revive. Since when do enemies ignore desperation fire from downed players attempting a Second Wind?
And finally on the negatives, though you said 'keep your guns modest' I have to point out that you took NO other gun-enhancing skills beyond Impact. Forgive me, but that's not so much modest as it is downright bashful bordering on reclusive. Overload and Metal Storm are a MUST if you plan on taking out Badasses/being useful to a party for more than healing.
On the plus side, you maxed out Refire and Deploy, which is good if you actually intent on using the turret a lot. Which you've stated that you do. I, personally, think that Stry is a bit of a waste of time, but with it maxed out in addition to Barrage? Wow. Just, wow. Deploy that sucker and hop over it to keep the enemy in the firing line, and you can rape Alpha Skags with a turret that nasty. Slap a Leader Mod on and you'll be poppin' mad skill kills left and right.TrollofReason 10:48, April 25, 2010 (UTC)
0% epic fail imo. off cons: no metalstorm, no weaponskill (scattershot/assault), def cons: no defense, no quick charge, no fitness, no grit, no stat. general fails: revive skilled. I agree that the turret can pwn, and with spec even more, but because of the long cooldown it sucks to spec only focused on the turret. 95.117.200.94 10:13, April 25, 2010 (UTC)
While beefing up your turret is rarely a bad thing, taking it to this extreme is a bit bizzare. Firstly, I'd take those points out of revived, even though you can drop your sentry at very frequent intervals this skill has very little use in most circumstances (if 2-3 of your teammates are down and next to each other, and there are no enemies close enough to kill then dropping a 70% chance reviving turret might help) Next, I'd take 2-3 points out of cauterize, being able to heal teammates is a must, but more than 2 or 3 points in there is largely a waste. Have supply drop OR stockpile, not both. Stockpile is basically a cheaper version of supply drop, if you're filling up that tree entirely you might as well have supply drop , if you're only scraping the bottom of that tree then stockpile. That's 12 points you have to spend elsewhere, if you spent in these in quick charge and possibly grenadier, then every time your sentry or you got a kill you'd get a pile of free grenades and/or a fully charged shield. The fact that you maxed out both refire and deploy means that you can throw down that turret as often as every 15 seconds which is pretty handy :)Chewychucky 17:13, April 27, 2010 (UTC)

Agree with FlyingSquirrel. Max'ing out a turret is useless and becomes a crutch and limits your abilites. If after Level 30 you need a turret to fight any boss except Crawmerax, your skill ... well ... sux! After Level 50, the turret is ineffective especially against bosses and is only good as a distraction. You also ignored the 2 most important Skills - Fitness and Defense! Get a Support Gunner cmod with Team Ammo Regen and you don't need Supply Drop. Cauterize eliminates the need for Aid Station. -- MeMadeIt 18:20, April 27, 2010 (UTC)
Community content is available under
CC-BY-SA
unless otherwise noted.