About me
I am NOT the real TV's Frank but a big fan (of MST3K + Servo)!
| | |
| --- | --- |
| | This user endorses creative weapon design. |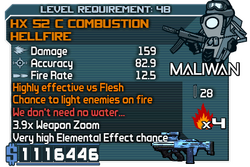 Well I finally did it...I finally bought a "Maxi" weapon. That's right. All this time and I never found a weapon where the price was maxed out: yep, $9,999,999 (talking pre-Craw here). Bought it on special, 2nd play-through (too many to count), at the vending machine next to the "Middle of Nowhere" bounty board. It feels good to finally be a member of the "Millionaires Club," (a "Maxi"). Of course, I forgot to take a screen shot at the time, and we all know how the value drops.

I can't wait to mod the s[FCC CENSORED: keeping the Internet clean since 2009!]t out of it!
Having been pretty much a revolver "hoe" most of my game playing life, I've branched out into shotguns and rocket launchers, "The Roaster" being my favorite. I can nab things from quite a distance. Thank God for mod'n after boredom--I refer to it as "pure bedlam." I do it with all the games a I play, if possible, from Nexuiz (the haggar is too killer) to L4D--like 4,000 RPM Uzi (a big complaint I have about L4D2 is it's so much harder to mod now). Anyway, here's my best "Roaster":

gd_customweapons.Weapons.CustomWeap_RocketLauncher_TheRoaster
gd_manufacturers.Manufacturers.Maliwan
gd_weap_rocket_launcher.A_Weapon.WeaponType_rocket_launcher
gd_weap_rocket_launcher.Body.body5
gd_weap_rocket_launcher.Grip.grip3
gd_weap_rocket_launcher.mag.mag5
gd_weap_rocket_launcher.Barrel.barrel2_2shot
gd_weap_rocket_launcher.Sight.sight4
gd_weap_rocket_launcher.Stock.stock5
None
gd_weap_rocket_launcher.UniqueParts.TheRoaster_acc5_Incendiary
gd_weap_rocket_launcher.UniqueParts.TheRoaster_Material
gd_weap_rocket_launcher.Prefix.Prefix_Quality3_Colossal
gd_weap_rocket_launcher.Title.TitleU_TaylorKobb_TheRoaster
0
5
1
0

Be Careful to Never "Clip" Your "Magazine!"
Have you ever heard some Roob refer to the rims on his (Mom's) chopped Saturn? You don't know what you're missing. "Hey, dufus, those are called, wheels!" Rims are a decorative attachment to wheels. Terms sometimes get mixed up. I don't know if it's laziness or Hollywood (probably both). Okay, so have ever heard someone refer to a magazine as a clip? Like "rims" and "wheels," the terms are NOT interchangeable. Magazines have springs in them. They can be removable or integral but if it "ain't" got a spring, it's NOT a magazine. "Clip" is short for "Stripper Clip" and it is used most often to quickly load a magazine. See proof below:
| Clip(s) | Magazine |
| --- | --- |
| | |
We love to foreshorten words (slang), so instead of "magazine" one simply uses "mag."
Community content is available under
CC-BY-SA
unless otherwise noted.