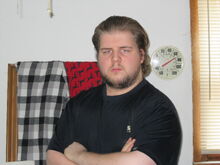 Hey everybody, I'm just some guy from Jersey who likes making up ideas and hanging out. 
Borderlands characters:
Borderlands 1: Still working on getting all four classes up there, Only Mordicai is at max level. Brick is through main story, I haven't done underdome on any character in either playthrough.
Borderlands 2: Legendary Sniper Assassin, Legendary Hoarder GunZerker, and Legendary Torch Phyco, Legendary soldier Commando, legendary Binder Siren, Legendary Mecro-Mancer, and main Reaper Krieg. All max level.
Pre-sequel: Nisha is max level, Athena 60, Claptrap 60, rest are at least above 50. Still gotta get lots of legendaries and finish UVHM missions.
Current Ideas made or helped with
??? the Obliterator: All me
??? the Bullymong Tamer: All me
Badass Class Mods Concept: All me
Duke Nukem Skill tree concept: All me
My favorite pages
Community content is available under
CC-BY-SA
unless otherwise noted.