im an experienced vault hunter who has defeated every boss numerous times and have picked up every legendary in borderlands 1 and have almost all of them in borderlands 2. also ive had all the pearlescants but sold some in borderlands 2 cause they were not as useful as the others. i have a personel grudge towards handsom jack for my own reasons and i always look to the fight  i have w him at the end of the game.ive beaten terramorphius and hyperius and master gee, voracidious and deaexidious the invinsible. if anyone needs an experienced vault hunter they can trust im there guy.
just for the record:
borderlands 2 was my 1st pre ordered game and it was my favorite game of 2012 over halo 4 and black ops 2.
i will always be a fan of all 3 no matter what
my fav characters are the sirens maya and lilith, krieg, salvador, axton and gaige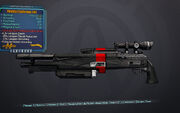 slavador was my 1st borderlands 2 character.
Community content is available under
CC-BY-SA
unless otherwise noted.