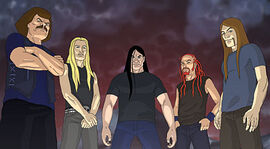 About me
Hey, I'm AC. I've been playing Borderlands on 360 for about a month, and am proud to say I'm a veteran of both playthroughs (I know, I'm so 1337 right? =S). I rock out as a Siren. My lv50 merc ROCKS SOCKS STRAIGHT OFF UP IN HERE! I just got gold, but I haven't been playing much these past few days.
Quick fact! My favorite play is to whip out a sniper whenever I hear the phrase "It's time to pound some meat-puppets!" and nab a quick headshot!
About My Characters
I currently have two actively played characters, one a Berserker, one a Siren. I guess from that you could deduce that I'm an up-close-and-personal player. I'm planning on starting one of the classes I haven't played much soon.
Siren
My most played character, oh-so-creatively named 'Lilith,' whom I shred solo with as a merc. I just recently finished her second playthrough, and am now tackling the pop-culture-reference treasure trove that is the challenge list (incase you didn't figure it out yet, Skag Gully on playthrough one is a great place to nail 'Conveyor Of Death,' XD). Eventually I plan to rebuild for multiplayer, but this is how she's rocking right now:
View on Official

Skill Tree Calculator

Starting Skill

Phasewalk
Gain the ability to turn invisible and move incredibly fast. Upon entering/leaving Phasewalk, you create a Phase Blast that damages nearby enemies. You can Melee attack to end Phasewalk early. Cooldown: 36 seconds

Lilith

Tier

Controller Tree

Elemental Tree

Assassin Tree

1

5/5

0

3/5

2/5

5/5

0

2

5/5

0

0

5/5

0

5/5

3

5/5

1/5

0

0

5/5

1/5

4

0

0

3/5

Totals
16
10
19
Required Level: 50
I call this build 'The Stereotype Killer' because SMGs are known to be inaccurate, weak and have small clips. I tend to use extended mags with SMGs and am a good enough shot to get a lot of crits while bullet-hosing. This allows me to use my Siren in a similar application as a soldier during gunfights, and she regenerates health like an a**hole, and has a health-boosting sheild (sheild cap is 1615 and health is 1045 or something), so she can strike with the best of them.
Gear
So I decided to sit down with my computer and actually get this section right for a change. Just before I wrote this I lucked out like crazy and got a Hellfire and a Bitch within two minutes of eachother. So that's my primary tandem currently. Depending on the situation, one subs in for the other when the clip is empty, but I use only SMGs currently which I sub out for snipers, shotguns and others when feel the need.
COM: DAHL 660 Merc, +52% SMG damage, +4 Quicksilver, +3 High Velocity, +3 Girl Power, +21 SMG Ammo Regen.
Shield: Torgue Sterling Tough Guy, 1235 cap (without boost), 159 recharge, +30% health.
Guns:
Level
Model
Prefix
Damage
Acc.
Fire Rate
Mag.
Notes
   Image   
37
RF2 Hellfire
Combustion
148
92.8
6.4
28
Incendiary x4
+2.8 Zoom
32
HX 2400 Anarchy
Desert
118 x4
30.3
12.5
82
+4.3 Zoom
+50% Recoil Reduction
+54 Mag Size
37
KKAS C SMG
Lightning
106
93.5
6.9
46
Shock x3
3.9 Zoom
37
HX 426 Bitch
Crimson
159
94.9
16.3
28
4.3x Zoom
+81% Recoil Red.
+39% Reload Speed
+70% Accuracy
}
Community content is available under
CC-BY-SA
unless otherwise noted.