| | |
| --- | --- |
| | "Look out, everybody, things are about to get awesome!" |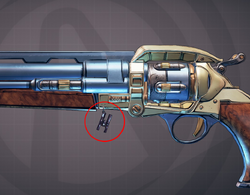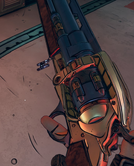 Trinkets are cosmetic items introduced in Borderlands 3 that are applied to weapons. They appear as keychains which hang off a weapon, and are earned through completion of quests, challenges, or any suitable loot source, with some available only through cosmetic DLC packs or seasonal events. They offer no additional bonuses to weapons and are purely cosmetic.
The position and size of a trinket is dependent on the weapon it is equipped on. Most weapons will have a small trinket hanging by the bottom left of the gun, though Hyperion shotguns in particular have large trinkets that hang directly in front of their ammo count screen.
Trinkets are applied to weapons in the inventory menu. A small box is located to the left of each weapon slot. Clicking on the box will display all owned trinkets which can then be applied. Each weapon slot can equip a single trinket, which will then be shown on any weapon equipped in that respective slot. There is no restriction to how many times a trinket can be used; a single trinket can be applied in all slots if wanted.
The Loot Boxer slot machine (the one closest to the door in Moxxi's bar on Sanctuary III) will drop trinkets when landing on three "middle finger" icons. Any suitable world drop trinkets can drop from this machine (i.e. not the ones purchased from Earl or given as mission rewards).
Unlockable Trinkets (Main Game)
These trinkets are unlockable in the Borderlands 3's main game through quests, challenges, Crazy Earl's Eridium shop, or as drops from any suitable loot source.
Unlockable Trinkets (DLC)
The main story DLC also includes additional trinkets which can be unlocked, which will be detailed here as new DLC is released.
Cosmetic DLC Trinkets
These trinkets are available through purchase of cosmetic DLC packs, most of which were also included in the Borderlands 3 Deluxe and Super Deluxe editions.
For Funsies

A golden gun.

Toy Box Weapon Pack (included in Deluxe and Super Deluxe editions)

Neon Skelly

A glow-in-the-dark skeleton.

Neon Cosmetic Pack (included in Deluxe and Super Deluxe editions)

Gold Tier

A golden coin with the vault symbol.

Gold Weapon Skins Pack (included with pre-order)

Gearbox Fan

Gearbox logo.

Gearbox Cosmetic Pack (included in Deluxe and Super Deluxe editions)

Diamond Ponytail

Butt Stallion's tail.

Butt Stallion Pack (included in Super Deluxe edition or Season Pass)
Special Event Trinkets
These trinkets are unlockable through special events like Bloody Harvest.
Vault Insider VIP

A vault symbol with "VIP" written on it.

Awarded for being a member of the Vault Insider Program

Mercenary Day Ornament

A (very) sharp candy cane.

Redeemed via SHiFT code during "Gifts of Mayhem" promotion for Mercenary Day (Dec 16, 2019 - Jan 10, 2020).

Caster Blaster

A purple TV with the vault symbol on it.

Included as a reward for linking a Twitch Prime account to SHiFT (available Dec 27, 2019 - May 14, 2020).

Shrunk 'n Dead

A shrunken head.

Reward for the Bloody Harvest seasonal event (Oct 24 - Dec 5, 2019). Complete any 4 of 15 event challenges.

Cosmic Romance

Reward for the Broken Hearts Day seasonal event (Feb 13 - Feb 20, 2020) by shooting 25 hearts
Unobtainable Trinkets
These trinkets have not yet been found in-game. They may be bugged, very rare, non-existent, or removed before release.
Amara's Fist

Shown during a behind the scenes event pre-release

Guardian Eyeball

Shown during a behind the scenes event pre-release

Hyperion Logo

Missing from the set of other manufacturer logos

Dahl Logo

Missing from the set of other manufacturer logos
Media