Thoughtlock is the tier 6 skill in Maya's Motion skill tree. Phaselock makes enemies fight each other instead of locking them in the air.
Effects
Enemy on Enemy combat: +100%
Phaselock Duration: +4 seconds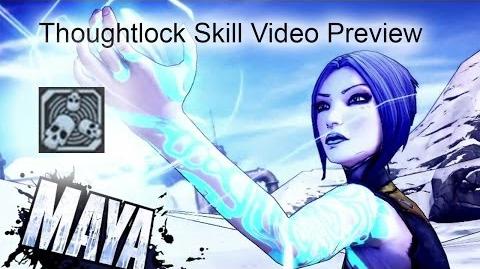 Notes
Despite the in-game description of this skill, Thoughtlock does not lengthen the cooldown of Maya's Phaselock by 3 seconds.
Thoughtlocked Enraged Goliaths will still attack both sides.
Enemies who cannot be Phaselocked also cannot be Thoughtlocked.
Thoughtlock increases the base duration of Phaselock to 9 seconds. Points in Suspension will increase this further, up to 14.5 seconds.
Any ability that would trigger normally with Phaselock still works with Thoughtlock (Converge, Helios, Elated, Wreck, Chain Reaction, and Sweet Release).
Using Thoughtlock on a Varkid pod will result in the pod not opening until it receives damage.
Thoughtlocked enemies appear as allies and can't be harmed by other Vault Hunters.
Community content is available under
CC-BY-SA
unless otherwise noted.