The Salt Flats is a location that can be accessed near the end of the story. In the middle of this area stands Thor, a huge piece of mining equipment in which Baron Flynt resides.
Background
According to Helena Pierce, The Salt Flats is on the road from New Haven to Sanctuary, but because of bandits the traffic is cut off.
Inhabitants
Common Enemies
Notable Friendlies
Notable Enemies
Points of Interest
Crimson Enclave
A fortified entrance to the Crimson Enclave lies in the south-west corner of the area where the flatlands begin to be broken by snow-capped rocky terrain. This site is protected by a small contingent of Crimson Lance. The fortified gate cannot be used to proceed into the enclave initially, although the nearby entrance of Thor Cave can provide a circuitous access point after the demise of Baron Flynt.
The Devil's Footstool
The Devil's Footstool is an arena that is more open than the Fyrestone Coliseum and the Cesspool. It features stones similar to those found in The Descent that can be used for cover. Thor can be seen moving back and forth from the arena waiting area.
Thor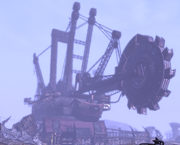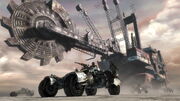 Dominating the middle of the Salt Flats is Thor, the colossal fortress of Baron Flynt. Notable features include a gigantic bucket wheel on the front and counterweight at the back. Access to the interior and upper decks of Thor is gained by way of a passage underneath connecting to an elevator platform that provides a quick ride up to the upper surface.
It can be presumed that Thor had once operated as a high-yield mining rig during the human expansion of Pandora, before the Dahl Corporation abandoned the planet. This is borne out by re-use of the Thor model in the abandoned Dahl mining facility in the Caustic Caverns in Borderlands 2.
Thor Cave
Thor Cave is a concealed cavity in the rock near the Crimson Enclave entrance that connects to The Backdoor cave system.
Thor Digtown
Thor Digtown is a bandit encampment nestled around the base of Thor. A med vendor and ammo vendor can be found among the huts of Thor Digtown, providing a convenient resupply point just prior to encountering the main boss of the area.
Missions
Anomalies
Weapon Crates
Main article: The Salt Flats: Weapon Crate Locations
Notes
Trivia
Community content is available under
CC-BY-SA
unless otherwise noted.