Joseph Decroux
I do believe this is a erference to the meme speak. It clearly means "Snitches get Stitches"
Alternatives
I'd seriously recommend using either the Slagga or Bone Shredder over this.
CANCEL THAT. IT'S BEEN BUFFED. (AND ALSO, ALL THE OTHER SERAPH GUNS HAVE BEEN BUFFED.) I SERIOUSLY RECOMMEND IGNORING MY PREVIOUS POST AND GETTING THESE GUNS.
Yumil Recian (talk) 01:29, March 3, 2013 (UTC)
pre-hot fix vs post-hot fix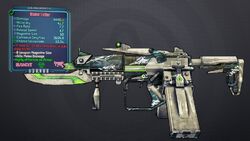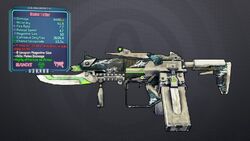 15:02, March 20, 2013 (UTC)
Community content is available under
CC-BY-SA
unless otherwise noted.