Raise a Floppa - The Loop
Play Sound
[[Category:Deep Fathoms missions]]
Stain Removal is an optional mission in The Secret Armory of General Knoxx. It becomes available after Bridging the Gap is complete. It given by Moxxi to remove some slanderous graffiti relating.
Background
"The bandits in the region have been painting the most awful things about me all around the area. Most of them are untrue. Do you mind finding them and removing them for me?"
Walkthrough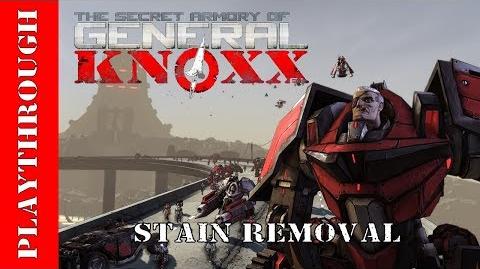 Objectives
Remove the graffiti about Moxxi.

Erase graffiti #1
Erase graffiti #2
Erase graffiti #3
Erase graffiti #4
Erase graffiti #5
Strategy
Be ready for some skirmishes - some of the graffiti is located in bandit camps. Two of them are located in the same one - be on the lookout for other graffiti that has yet to be cleaned up to get them early and save some time. The graffiti under the ramp is incredibly difficult to see from a vehicle, so look for it on foot.
Head to the hole in the wall where the Catch-A-Ride is and go left.
Head into camp where the ramp leads up to Moxxi's Red Light, turn immediately left.
Head into the corner near the New-U Station under the energy bridge. The graffiti is on a building facing towards the path leading in from the New-U.
Head back to the ramp. The graffiti is on the inner edge of the next to last pillar.
Head back to the hole in the wall where the Catch-A-Ride is and head right, up the slope. The graffiti is on the last wall panel on the right on the outer side.
Completion
"Thanks, Sugah. You're a real peach."
Notes
There are rumors of a glitch preventing the fourth graffiti from spawning, so be aware.
Trivia
"Skaggie style" is a play on words of the sex position, doggy style.