New Pokemon Games - The Loop
Play Sound
| | |
| --- | --- |
| | This is not a page for trivia. Please see individual pages for trivia. |
Throughout Pandora, unique pieces of equipment can be found. These items contain special effects beyond that which is stated directly on the item card.
Borderlands
Red Text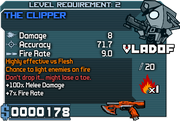 Found in the stats boxes of guns are sometimes cryptic or humorous messages. These lines indicate a certain effect inherent to the gun. The text itself often gives a hint of what that special ability does, and is almost always a pop-culture reference.
Sometimes the description relates to the boss or enemy who dropped the weapon. Such is the case with the description for The Clipper which reads "Don't Drop It... Might Lose A Toe." The Clipper belongs to the boss Nine-Toes and is speculated to be the reason for his nickname.
The messages can be found in the Borderlands game files, and are listed below by type of weapon, and then alphabetically. Some of these interpretations may not be 100% accurate.
All weapons vary in quality, except Eridian Weapons, which are always green (though newer Eridian guns from The Secret Armory of General Knoxx may be blue or orange). Boss and mission reward weapons can be from green to purple quality, with blue being the most common. Weapons will also vary in accuracy, fire rate, ammo count, etc. depending on the model of the weapon. For instance, a two-shot revolver will do more damage than a six-shot revolver of the same level with the same barrel. Essentially, orange weapons modify the base gun with their specific parts and their title (which adds rarity and red text).
Many of these descriptions may never be found on weapons in-game because another file has marked them as inactive. Some inactive weapons can be created by modding.
Alien Rifles
Note that flavor text for Eridian weapons is marked differently and applies to the entire class of alien weapon.
Active Weapons
Inactive Weapons
From The Secret Armory of General Knoxx
Combat Rifles
Active Weapons
From The Secret Armory of General Knoxx
Repeaters
Active Weapons
From The Secret Armory of General Knoxx
Revolvers
Active Weapons
From The Secret Armory of General Knoxx
Rocket Launchers
Active Weapons
From The Secret Armory of General Knoxx
Take 'em UNDER, Undertaker: Increased damage, magazine size and huge splash damage.
Grenade Launchers (Inactive)
The Borderlands localization files contain information on grenade launchers and some flavor text that may accompany them. No true grenade launchers can be obtained within the game currently, but the resources and weapon parts do exist for them, and their unique weapon parts are functional.[1]
Artillery Strike!, Dahl Onslaught: Burst fire six grenades.
I feel a storm coming, S&S Rainmaker: MIRV-style shot
It Rises!, Atlas Leviathan: Fires a grenade with an extremely large blast radius that uses multiple rounds per shot.
Mister Jakobs sends his regards, Jakobs Terror: Projectile is very powerful, has a larger explosion, and is very slow.
Stubbed, The Big Toe: Projectiles fire faster, have less recoil, and produce smaller explosions (hence the term "stubbed") referring to Jakob's Terror. Initially meant to be dropped from Nine Toes. Dahl is the intended manufacturer.
Shotguns
Active Weapons
From The Secret Armory of General Knoxx
This dog bites, Jackal: Fires like a grenade launcher.
Sniper Rifles
Active Weapons
Inactive Weapons
Trick Shot, Orion: Unknown. The localization files say it is an S&S "Delete" so this may have been removed and replaced by A hunter lives among the stars....
From The Secret Armory of General Knoxx
Good Touch, Kyros' Power: Portion of damage done is used to heal the shooter, damage increase, bullets deal explosive damage.
That's my girl..., Bessie: +500% Critical Hit Damage, high Damage, 100% accuracy when zoomed, increased bullet velocity, 2.8x weapon zoom, accuracy is unaffected by Mad Moxxi's "Close combat" modifier.
Submachine Guns
Active Weapons
From The Secret Armory of General Knoxx
Flee the wave!, Tsunami: Rounds shoot with a sideways motion, ricochets, alternating between Shock and Corrosive damage.
Phooon!, Typhoon: Increased fire rate, bullets ricochet and split into 3 swirling bullets after a time, forming a trident shape.
Borderlands 2
Main article: Special Weapon Effects (Borderlands 2)
Borderlands: The Pre-Sequel
Main article: Special Weapon Effects (Borderlands: The Pre-Sequel)
References