World of Warcraft: Dragonflight - The Loop
Play Sound
Sledge is a "massive brute"[1] and the leader of the bandits in the Arid Badlands. He is the primary antagonist for a series of missions that bar access to the Dahl Headlands and his death is one of the last tasks undertaken in the Arid Badlands.
Background
Something was discovered at Headstone Mine and the find was hastily covered up. Soon after the rumoured discovery, many of the workers in that area mutated radically, some becoming insane with an obsession for the Vault, some becoming stunted midgets, and others growing into gross monstrosities. Sledge emerged from these former convict workers to take charge and create his own little bandit empire.
Leader of a Bandit tribe, Sledge is blunt and uncreative: when he named his iconic weapon, he simply called it "Hammer". What he lacks in brainpower he makes up for with brute strength and a high tolerance for pain. His namesake sledgehammer sends painful shock waves that keep foes at a distance and can make hard work of melee assaults on Sledge.
Involvement
According to the Guardian Angel; "Sledge is a bad man, who has done terrible things to the people of Fyrestone." The Guardian Angel also claims that Sledge possesses something important that must be recovered from him. A series of missions will set players on a path to penetrate Sledge's operation and ultimately kill Sledge himself.
According to Dr. Zed, Sledge murdered the entire family of Shep Sanders and used their skin to build a tent.
It is revealed in one of the missions in The Secret Armory of General Knoxx that some midgets later revive Sledge. The experiment proves to be only a partial success and Sledge goes berserk. He comes to be known as Motorhead.
Appearances
Strategy
Main article: Sledge: Battle For The Badlands
Quotes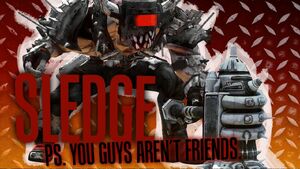 Notes
Trivia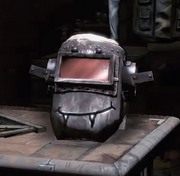 See Also