Raise a Floppa - The Loop
Play Sound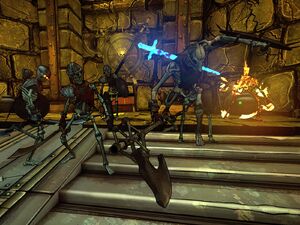 Skeletons are magically animated humanoid skeletons in Tiny Tina's Assault on Dragon Keep. Most are the remnants of deceased humans, resurrected by the power of the Handsome Sorcerer, while some range from midget size to even giants.
Involvement
Mission dialogue hints that many skeletons were once ordinary people before the Handsome Sorcerer rose to power and twisted them to serve his own cause. Now they roam the countryside, attacking anyone who ventures near and harassing adventurers who might have designs on challenging the Handsome Sorcerer himself.
Strategy
The strategies that skeletons employ, and are employed against them, are as wide and varied as the units themselves. Typically they are found in small groups, sometimes mixing ranged skeletons with melee fighters, but some encounters have them appearing singly, or in pairs. Skeletons are frequently deployed in ambush roles, leaping from boats, crypts, or simply clawing their way out of the earth.
Having no flesh, most skeletons are highly resistant to incendiary attacks. Furthermore, their often small target profiles can make them more difficult to hit than fleshy enemies, and many are also protected by pieces of armor that in some cases absorb a shot before falling away, and in other cases can actually deflect projectiles. Some skeletons also carry shields that completely block attacks altogether when struck.
Decapitating a skeleton will result in varying effects, although in general they fight on without their heads. Archers and swordsmen, deprived of their sight, will lash out in random directions, and it is common to see them striking other skeletons when this happens. As a result, other skeletons will return their aggression until one or the other is destroyed.
Skeleton Units
Notable Skeletons
Notes
Most skeletons take 150% damage from melee attacks.

They don't take extra corrosive damage, leaving explosive and non-elemental as the only viable damage types.