Roblox: DeepWoken - The Loop
Play Sound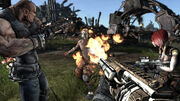 Shotguns are powerful close-range weapons that shoot a spray of pellets.
Borderlands
Overview
Shotguns tend to have low accuracy and low magazine sizes compared to most other weapons in the game, sport medium rates of fire, and have a high degree of firepower per blast. At point-blank range, shotguns can cause even more damage than rocket launchers or sniper rifles. Reload times vary with the average being about 1.25 seconds or faster, while some models can go up to 3 seconds. This class of weapon comes in two subtle but distinct varieties.
Combat Shotguns are easily identified by a revolver-style rotating cylinder and comparatively lower rates of fire, inaccuracy, and increased firepower. These are on average though, and any of these qualities may dramatically swing in the opposite direction for particularly high-quality models. Capacity varies greatly, with the most common models holding 6 rounds of ammo, but with high-capacity models having 12 or more. 2-shot cylinders also exist, which tend to have increased damage, but the time spent reloading these shotguns tend to limit their uses in a sustained fight. Pellet count starts at 9 for the most basic weapons but can vary between 7 to 12 depending on model-type. Combat shotguns are made by Atlas, Dahl, Jakobs, Tediore, and Torgue.
Assault Shotguns are visually different by the inclusion of a detachable box magazine-style loading mechanism, increased rate of fire, comparatively better accuracy, and an increased instance of useful elemental tech abilities. Magazine size for assault shotguns is more consistent than the combat variety with a minimum of 5. Pellet count is also much more consistent as most models have 7 pellets in a blast. Assault shotguns are made by Hyperion, Maliwan, S&S Munitions, and Vladof.
General Strategy
Though shotgun pellets can travel an effectively unlimited range like all guns in Borderlands, the spread-effect of the weapon means that distant targets won't be hit most times, and when they are, it isn't with the entire spray. Therefore, shotguns should normally be used at close ranges. Aim when possible, but do not sight, to make each shot count and go for weak spots to maximize clustered critical hits. Again, do not bother sighting shotguns, run and gun, and run for cover when reloading.
For the same reasons real hunting shotguns are used for birds, shotguns are also very effective against rakk and their large in-game target profile even at a distance; when firing at a swooping flock of rakk, it is common to hit and kill several at once with each shot. Shotguns are also a good weapon to use against skags - especially the quick-reloading Tediore weapons, or the hard-hitting Jakobs models. Likewise, against psychos of all varieties, particularly Mutant Midget Psychos, shotguns are more than useful, as these enemies by nature approach very close range where shotguns are most powerful.
When choosing a shotgun that will serve the best, total damage (damage multiplied by pellet count) is the most valued attribute. Accuracy usually isn't as important at the close ranges at which one will be using the weapon. In fact, a narrower blast cone might actually be worse during frantic dodge-and-weave with skags and the larger forms of scythid. Against fragile rakk, a shotgun blast should hit as much of an approaching flock as possible, as hard as possible, with every pull of the trigger as opposed to methodically taking one rakk down at a time.
One exception to this rule is any shotgun with an accuracy of zero, such as Sledge's Shotgun, as the spread is too large for any reasonable damage output beyond point-blank range.
Another exception is encountered in the Braaaaaaaaaaaaaaaaains missions in The Zombie Island of Dr. Ned. The extra-accurate Death model assault shotgun allows for a tightly packed critical punch to any zombie's face at a decent range without the need to sight. Of similar note is the "Hunter's" type combat shotgun that has increased accuracy; centering a zombie's head in the reticle allows for a nearly-guaranteed chance of a decapitating headshot at medium range. This is reduced for those with the heads craned back.
Shotguns, with their generally low rates of fire, make for poor elemental weapons. The exceptions are shotguns with incendiary effects and the Maliwan Crux. While the likelihood that shotguns will actually cause a useful elemental trigger are low, incendiary weapons still have a default damage multiplier against enemies without working shields, especially skags. The Maliwan Crux, on the other hand, has a relatively high chance for corrosive effects, and if used up close, the multiple melting shots stack on top of each other, allowing for heavy damage-over-time effects and brutal follow-up blasts. Also, shotguns with a Carnage barrel invariably inflict their elemental effect with every single mini-rocket they fire, thus negating the typical elemental weakness of shotguns.
Class Information
Varieties
All Shotguns
Common Titles:
Shotgun - Balanced, fires 9 projectiles. May fire 7 if accurate enough for Hunter's prefix.
Combat Shotguns
Common Titles:
Unique Drops and Rewards:
Dahl Jackal

This dog bites.

 – Fires a grenade, can have elemental effects.
Assault Shotguns
Common Titles:
Parts and naming
Main article: Shotgun/parts
Notes
Assault shotguns cannot be incendiary.
Shotguns are the only weapon type that is made by all nine of the main weapons manufacturers.
Shotguns that fire rockets behave in a similar manner to grenade launchers, and should be treated as such.
Trivia
Borderlands 2
Overview
Shotguns continue to be premier close-range firearms in Borderlands 2 by firing numerous projectiles in a wide spread. Shotguns can have any number of barrels from one to four. More barrels consume more ammunition and are less accurate; however, they eject more projectiles per firing cycle. Fewer barrels fire more cycles before reloading. For room clearing, missiles, or killing rakk, it is advisable to choose a shotgun with multiple barrels. For sniping, a single barrel is preferable.
Unlike most weapon types in Borderlands 2, shotguns do not suffer a damage penalty for having an elemental capacitor. This makes non-elemental Bandit, Hyperion, or Tediore shotguns inferior to elemental versions for most tactical purposes, barring special cases such as: use with an Axton build incorporating Duty Calls or versus enemies who are resistant to specific elements. In light of this shotguns with shock capacitors are considered the most versatile.
Unlike Borderlands shotguns, there are no subtypes (Assault or Combat), and the shotgun mechanics depend upon the manufacturer.
Common
Common shotguns are named by body and barrel manufacturer. Barrel manufacturer determines the number of barrels.

Only green or higher rarity shotguns may have three (Bandit) barrels, and only blue or higher rarity shotguns may have four (Torgue) barrels.
Shotguns consume one ammo per barrel when fired, with the exception of Hyperion and Tediore barrels, which fire one although they have two barrels, like a modern hunting double barreled shotgun, which is proven by the Vault Hunter having two shells on his speed loader when loading up a Longrider, Striker, or Scattergun shotgun.
Borderlands 3
Shotguns are once again the most effective close-range firearms in Borderlands 3, firing numerous projectiles in a wide spread. They have been given the unique ability to apply "knockback" on standard enemies, forcibly turning them into ragdolls if enough bullets hit them at close range and leaving them vulnerable. An enemy is only vulnerable to being ragdolled once every few seconds.
Each manufacturer now produces their own unique weapon parts, giving every shotgun various firing methods, magazines, and utility.
Hyperion shotguns have a fast fire rate and can become the most accurate shotguns due to their reverse recoil, but tend to have low damage per shot. They feature the company's signature frontal shields, which can provide extra safety or buff the shotgun in different ways, such as amplifying its damage or returning bullets back into the magazine.