"I love this damn thing!"
"Its like having another soldier on the field!"
"Efficient and effective!"
— Roland upon killing an enemy with the turret.
The Scorpio Turret is an automated sentry gun deployed by Roland's Action Skill. In addition to firing on enemies it also has a shield which can provide cover. The Scorpio Turret can also be upgraded by skill points to heal, resupply ammo and shoot rockets. It has a duration of a 20 seconds and an initial cooldown of 100 seconds.
Skills that affect the Scorpio Turret
Infantry Tree
Support Tree
Medic Tree
Cooldown
The cooldown for the Scorpio Turret works a bit differently than that of other skills. To deploy the Scorpio Turret, Roland must have first accumulated a total of 100 Ability Points. The character naturally replenishes Ability Points at a rate of 1 point per second. While the Scorpio Turret is deployed, the regeneration rate is reduced by 1.
While it may look like the Scorpio Turret Ability does not recharge when it is deployed, this is false. It recharges, albeit slower. With no upgrades, its recharge speed is null.
The regeneration rate of these ability points can be increased:
The 100-second cooldown does not begin until the Scorpio Turret leaves the battlefield, meaning that the Scorpio Turret often has a delay of 120 seconds between each activation. If the Scorpio Turret is destroyed before its 20-second lifespan finishes, the total delay is decreased accordingly. The Deploy skill decreases the cooldown time, but also causes the cooldown to begin as soon as the Scorpio Turret is activated (albeit at a slower rate than when it deactivates). Because of this, the practical cooldown time (120 seconds) is properly reduced as Deploy gains ranks.
Notes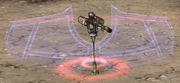 Community content is available under
CC-BY-SA
unless otherwise noted.