| | |
| --- | --- |
| | "Look out, everybody, things are about to get awesome!" |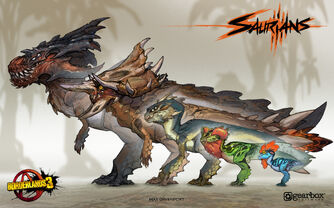 Saurians are large, dinosaur like-creatures, easily identified by their two hind legs and violent behavior.
Background
ProkjSaurians are native to the harsh, swampy climate of the planet Eden-6. They live in both the open swamp land as well as closed off cave systems. Smaller species tend to hunt in packs, while the larger specimens prefer a more solitary life.
At some point they were taken to Gehenna by Jakobs thanks to the Project Endless Horizons to experiment on them. There they are known as "Devils", and are tamed and utilized by the Devil Riders as mounts and weapons of war. Other byproducts of them include rakk-like Scourge, snake-like wyrms and wyvern-like dactyls.
Appearances
Saurian Types
Regular
Badasses
Bounty of Blood
Notable Saurians
Borderlands 3
Bounty of Blood
Notes
Trivia
Gallery