Road Rage is an optional mission in The Secret Armory of General Knoxx that becomes available on T-Bone Junction Bounty Board after Prison Break: Road Warrior is complete.
The Crimson Lance merely asks that, should you be driving around the area to destroy patrolling Cheta Paws.
Background
"The Crimson Lance is entirely capable of handling your security needs! We merely ask that, should you be driving around the area and run into bandits breaking the off-road driving laws, you please feel free to destroy them. We are more than willing to reward the happy populace for doing our jobs for us."
Walkthrough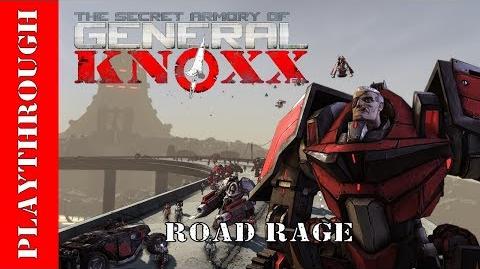 Objectives
Eliminate bandit vehicles.
Strategy
Cheta Paws appear in the open areas of the Sunken Sea. Eliminate these "bandit patrols" while doing missions in the area to fill the quota. Attacking them in a Monster provides the most straight forward vehicle-to-vehicle encounter, with the Monster's speed able to match pace with these enemies, and the homing missiles easily outmatching them. Racers are faster and can be used with an unoccupied turret trained on them, although the fragility of a Racer can present a danger if the return fire connects.
This mission can also be completed in the Deep Fathoms. Cheta Paws can be found by driving down the ramp on the right side of the road after entry. When a monster is used to shoot these Cheta Paws from on top of the road, they will continue spawning which can contribute to a fast mission completion.
Completion
"Thank you citizen. Your efforts are ensuring a brighter future for Pandora!"
Community content is available under
CC-BY-SA
unless otherwise noted.