GTA: The Criminal Enterprises - The Loop
Play Sound
The Rakk Hive is a gigantic alien quadruped with four pearl-like eyes and multiple holes spread across its back. These holes are home to flights of rakk, which themselves will swarm to attack anything that gets near the Hive. The Rakk Hive is a boss enemy encountered during the mission Another Piece Of The Puzzle.
Background
It's uncertain whether the Rakk and Rakk Hive have a symbiotic or parasitic relationship. A picture of the Rakk Hive with its mouth censored out appeared on the cover of a xenobiology journal, sparking interplanetary scientific debate over ethics and censorship. The controversy overshadowed the questions being proposed by the journal regarding whether or not the relationship between the Hive and the Rakk is parasitic or symbiotic, which eventually led to unacceptably slow findings and the loss of funding for the scientists.
The hibernation cycle of a Rakk Hive is noticably longer than that of the other species on Pandora. They are visible in their dormant state by their exposed backs protruding above the ground while most of their body remains submerged. Unlike the Rakk Hive found at the Trash Coast, they will not awaken. However, rakk will still fly out of their exposed backs.
Involvement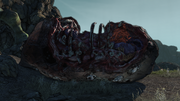 Patricia Tannis has detected evidence of a piece of the Vault Key in the Trash Coast and sends the Vault hunters to retrieve it. Barring their way is a surprise encounter when the Rakk Hive heaves itself free from the earth and attacks the Vault Hunters.
Appearances
Strategy
Main article: Another Piece Of The Puzzle
Notes
Trivia
See Also