Raise a Floppa - The Loop
Play Sound
For the enemies in Borderlands 3, see Nomad (Borderlands 3) and Nomad Torturer (Borderlands 3).
Nomads are an enemy type in Borderlands 2. They are slow-moving bandits with high health. Some nomads wield large, bulletproof shields that provide nearly full cover. Most nomads will only carry a gun whereas others will dual wield a pair of guns.
Types
The basic Nomad wields an assault rifle and will slowly advance towards his targets, rarely seeking cover. He can knock back an enemy with an over-the-shoulder melee attack.
Notable Nomads
Quotes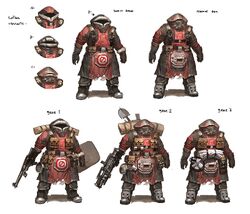 Normal
Quit making me work for it!
Drop your gear, I'll let you go!
Dibs on their scalps!
Well, who's this?
I'll make a coat outta ya!
You won't last two minutes!
I want everything you got!
Just leave!
Leave us alone!
Gimme your damn loot!
I'll survive, you won't!
You should be runnin'!
Look at all that gear!
Some nice gear ya got!
Just DIE already!
Die, midget lover!
You're worse than a midget!
You can still run!
Midget loving taint-sacks!
Get 'em, boys!
I'm gonna pick your corpse clean!
I got no time for this!
This one's mine!
You're nothin'! Nothin'!
Make this easy on yourself!
Here's the winder!! (when using a melee attack)
Shut up, tiny! (spoken by Nomad Torturers on rare occasions when their captive midgets squeal in fright)
Shut the hell up! (spoken by Nomad Torturers on rare occasions when their captive midgets squeal in fright)
Dying
Don't scavenge my stuff...
But, my gear...
Midget lover...
I miss my midget...
At least I won't have to deal with you people anymore...
Bury me with my stuff...
Leave me alone...
Been waiting for this...
Hell...
Fine...good...
This is the end...
Why...
Player fleeing
I ain't followin' you!
Stayin' back here!
That's the idea!
Yeah, runnin' away!
You'd better run!
Player crippled
Freaking finally!
I told you to leave us alone!
Almost as bad as the midgets!
When attacked
Aw nuts. (when slagged)
Slag? Really?! (when slagged)
Slagging bitch! (when slagged)
Augh, disgusting! (when slagged)
Lay off!
How?!
Son of a ... bitch!
Damn bastard...
Stop it!
You bitch!
Nearby when Goliath is attacked
What are you doing!
No! You'll rage him!
He'll rage out!
Stop it, you moron!
No, not the helmet!
We put the helmet on for a reason!
You're almost as dumb as the midgets!
Leave it on!
Keep the helmet on!
Don't shoot the helmet! 
We can't stop him!
Nearby when Goliath goes into rage mode
Everybody run!
He's angry!
Start runnin'!
He's loose!
Who took off his helmet!?
He's free! He's free!
During Goliath's rage
We can't stop him!
Kill it! KILL IT!
We're gonna die!
We're dead!
Goliath? I-I order you to stop!
Fighting escaped midget
Midget on the loose!
Get back on the shield!
My midget!
They freed my midget!
Shoulda never let you free!
I will end you!
I knew I shoulda killed you!
That was your last chance!
Kill the midget!
You're going back in your box!
You're not getting fed this month!
I will kill you, short stuff!
I will break you, pint size!
I friggin' HATE midgets!
Losing shield
Shield's gone!
GOD DAMN IT!
Lost my shields!
Lucky sonofabitch!
My shield!
PISS OFF!
Quit screwin' my shields!
Shields are down!
You're pissin' me off!
Mortally wounded
Just... end it already...
I'm so sick of this...
Wounded again...great...!
I... don't... die...
Keep trying...!
Ally's demise
He owed me rations!
Ha ha!
Serves him right!
When grenade is thrown
Aw crap.
Huh?
Grenade!
Oh! Grenade!
Dammit!
What?!
When Buzzard(s) appear
We got gyros in the air!
Took ya long enough!
Strafe 'em already!
We got gyros, we're fine!
When Buzzard pilots die
You suck, pilot!
Learn to fly!
Worst pilot ever!
Where's our air support!?
You fly, they can't! What's your problem!?
When Zer0's Decepti0n fades out
That was a decoy you morons!
The real one! Get the real one!
How'd he move so fast?
Crap! It was just a hologram!
Idiots! You can't tell a person from a hologram?!
It's an illusion! The real one is over there!
He was tricking us!
Shoot the real one!
Damn it, he fooled us!
When Axton throws down a turret
Look out!
What the?!
Nice turret!
That ain't gonna help you!
W'the hell is that?!
I want one of those!
It'll take more than that!
When Phaselocked by Maya
What's this crap?!
Frickin' witch thing!
What the hell?
Put me down!
Let me down, NOW!
Whoa... WHOA!
Lemme down!
When Salvador Gunzerks
One gun wasn't enough!
You and me 'zerker!
I'll survive this!
Two guns?! So what?
Show me what you've got 'zerker!
What the hell?
'Zerker's doublin' up!
Bring it on, 'zerker!
When Gaige summons Deathtrap
Stop that bot!
Cute robot!
Don't sweat it boys, just a dumb machine!
The hell is that thing?
Scrap that bot!
We don't take kindly to bots around here!
The bot! Somebody wreck it!
Don't break that bot! We could use it!
Notes
Whenever a nomad issues a command, he will always lift his shield to the side, exposing his body.
Nomads carrying physical shields are vulnerable to weapons with splash damage, as they can bypass it. However, the direct damage from the projectile is still blocked.
In True Vault Hunter Mode, they are renamed to Nomad Raider.
In Ultimate Vault Hunter Mode, they are renamed to Nomad Plunderer.
Trivia
Nomads detest midgets, choosing to affix them to the front of their shield to show their hatred for them.