Borderlands 2: Mr. Torgue's Campaign of Carnage Trailer

Mr. Torgue's Campaign of Carnage
, by
Gearbox Software
and
The Workshop
, is the name for the second DLC installment of
Borderlands 2
. It was released November 20th, 2012.
[1]
The level of the initial area is set when the Badass Crater of Badassitude is first visited, but in Normal Mode is at least 15 and at most 30.
Pricing
Playstation 3
$9.99 USD/£6.99
€9,99
£5.99 GBP
$14.95 AUD
52.95 DKR
70.00 SEK
Xbox 360
PC
$9.99 USD
$15.99 USD on Steam for Australia/New Zealand
£7.99 GBP on Steam for United Kingdom
9.99 EUR on Steam
Playstation Vita
Unknown; so far only obtained by purchasing the Game of the Year Edition, which is $39.99 USD
Features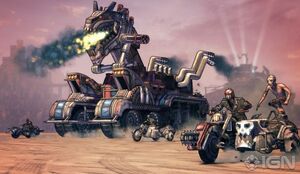 This is a list of features announced by Gearbox Software[2]:
Multiple missions and optional side missions
The Badass Crater of Badassitude - Arena-style, "horde-mode," "every man for himself" combat with enemies fighting each other as well as the Vault Hunter
New weapons
New Enemies, including multiple bosses
6 - 8 hours of additional gameplay
Locations
Notable Characters
Notable Enemies
Missions
Main article: Mr. Torgue's Campaign of Carnage mission flow
Gallery
External Links
Works Cited
↑ Torgue, Mister.Mister Torgue Announces release date. 16 November 2012. Web.
↑ Goldfarb, Andrew. "Fight for Your Loot in Borderlands 2's Torgue DLC". 16 November 2012. Web.