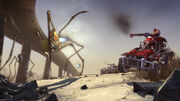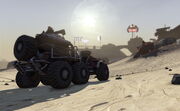 | | |
| --- | --- |
| | "Look out, everybody, things are about to get awesome!" |
The Monster is a jeep/monster-truck vehicle first introduced for player control in The Secret Armory of General Knoxx. It is created in-game during the mission Greasemonkey, given by Scooter. Compared to the Runner, the Monster has a ridiculous amount of fuel for boosting, and it is also much tougher than the Runner is. It has two seats, a driver and a gunner seat, and the frontal machine gun has a lower rate of fire than the one mounted on the Runner. Its running speed pales in comparison to the Racer, but it can still very easily outrun a Lancer in a pinch, even without using the booster. It's the middle-ground vehicle of DLC3 in terms of armor and speed.
Armaments
The gunner seat is equipped with a rocket launcher that fires three homing missiles per shot. It initially launches a single projectile that releases three seeker missiles. These missiles are a blessing against an enemy like a Drifter, as you don't really have to aim in order to score a hit on them. On the front is a machine gun similar to that of the Runner, but with a lower rate of fire. A notable difference, however, is that the Monster's frontal machine gun can turn 45 degrees from center to either side.
Paint Jobs
"Urban Commando"-black
"Night Rider"-blue
"Road Hazard"-yellow
"Moxxi Moible"-pink
Trivia
Mad Mel drives a modified Monster, adorned with pieces of skag skeleton to enhance its menacing appearance.
The Monster bears a strong resemblance to the gun trucks that are seen in the James Cameron movie "Avatar", except with bigger tires and lift kit, armored turret shell, and roll cage.
See also