Raise a Floppa - The Loop
Play Sound
| | |
| --- | --- |
| | "Look out, everybody, things are about to get awesome!" |
The Mimic is a shape shifting enemy in Tiny Tina's Assault on Dragon Keep, and takes the guise of an unassuming chest. While undisturbed, the Mimic is visually indistinguishable from a common weapon chest, but when opened it will suddenly drop its disguise and reveal itself as a grotesque mollusc-like predator with a snapping fanged maw. It uses its teeth as a primary weapon while its two humanoid arms are used to quickly hop forward. This clever disguise, along with the false sense of security often felt while looting objects in an enemy-cleared area, can make the Mimic a very unexpected foe.
Appearances
Strategy
When a mimic drops its disguise, it surges forward, snapping at the closest foe. Ordinarily it tries to chase and chomp its prey, but is not a particularly fast creature, and sometimes stops to spit a volatile gob of spittle or to lash out with its long forked tongue. Its main advantage lies simply in the element of surprise.
Prior to opening a chest, Vault Hunters are well-advised to prepare for the possibility of it actually being a mimic. Those who open these chests also have a brief period in which to back away before the chest opens to reveal itself as a ravenous beast or an innocuous chest. It may also be beneficial to search other smaller chests nearby for health or ammo before opening these large chests first.
Notes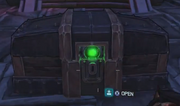 Trivia