| | |
| --- | --- |
| | "Look out, everybody, things are about to get awesome!" |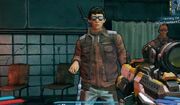 Michael Mamaril
is an
NPC
in
Sanctuary
. He is noted for giving out
blue
or higher level loot as well as being part of the
Tribute to A Vault Hunter
achievement. He is also known for sometimes dropping E-Guns.
Locations
Michael can be found randomly at one of several spots around Sanctuary:
Near the newsstand in Sanctuary's main plaza
In an alley down the street from the front entrance to Moxxi's
Inside Moxxi's, near the bar
Inside Moxxi's, in the side room across from Sir Hammerlock
In Marcus' weapons shop
Near Claptrap's location, at the end of the street and in front of a building
Inside Scooter's garage, near a stack of tires
Inside Crimson Raider headquarters in the room with Tannis
Inside Zed's clinic
To the left of the door to Crazy Earl's Black Market
Trivia
The NPC shares his name with a Borderlands fan that passed away in October 2011. Michael's friend, Carlo, sent Gearbox an email requesting that a short eulogy be read by Claptrap in order to honor his late friend's memory. Gearbox also promised to include Michael in Borderlands 2 as a tribute to the late Borderlands fan.
His ratio appears to be:
95% Blue

4.5% Purple

0.5% Orange
This is based on a test of 500 trials performed by user Dark_Force9999 on the original Gearbox Forums here
Bugs
In the unpatched console versions, Michael has a 100% spawn chance before Sanctuary is relocated, after which point his spawn rates returns to the default 10%. In the PC version, he always has the normal 10% spawn chance.
It seems that when you first talk to him, he will give you a gun that is based on your level. If you level up and talk to him again after saving and quitting, he will still only give you a gun based off of the level you were when you first talked to him.
Gallery
Community content is available under
CC-BY-SA
unless otherwise noted.