Mania is the second of Krieg's three skill trees. The Mania tree focuses on melee combat and health mechanics. His other skill trees are Bloodlust and Hellborn.
This skill tree is a high risk/high reward skill tree. In the words of the Creative Director for Borderlands 2 "Krieg's Mania tree makes use of mechanics in the game that may seem counterintuitive at first. Some of the skills require things that have always seemed like a bad thing until now, such as Fuel the Rampage, where taking health damage increases your cooldown rate faster allowing you to access Buzz Axe Rampage faster, which means you can fully recharge your health, and skills like Empty the Rage and Embrace the Pain that increase your melee and fire rate respectively while your shield is down.[citation needed]
Skills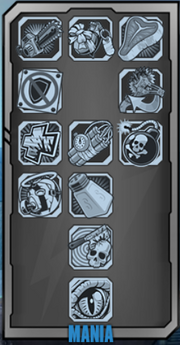 Tier 1
Tier 2
Tier 3
Tier 4
Tier 5
Tier 6
See also
Community content is available under
CC-BY-SA
unless otherwise noted.