| | |
| --- | --- |
| | "Look out, everybody, things are about to get awesome!" |
Maliwan, well known for for their arms manufacture, maintains a strong military force under the leadership of the Katagawa family. With Katagawa Jr. forcibly taking control of the corporation, the Maliwan troopers soon found themselves in a loose alliance with the Children of the Vault and thrown into protracted engagements on Promethea and Nekrotafeyo.
History
Involvement
Seeking the power of Promethea's Vault for himself, Katagawa Jr. contacted Tyreen Calypso to negotiate an alliance with the Children of the Vault. As part of the alliance, Katagawa had Tyreen use her energy-draining Siren powers to kill off his siblings so that none of them would inherit Maliwan before him.
With the COV providing armed personnel and Maliwan supporting them with their fleet, weapons, and technology, Katagawa launched his attack on Promethea to force Atlas's new CEO, Rhys Strongfork, into unconditional surrender of his company and the Vault to Maliwan. A second unit of Maliwan soldiers was dispatched to the planet Athenas, where the Order of the Impending Storm guarded a piece of the Vault Key needed to unlock the Vault, and a third unit supported by COV Bandits went to capture Skywell-27 and its powerful superlaser so as to push Rhys into further submission. The Crimson Raiders, assisted by former Vault Hunters Maya and Zer0, were able to push back the Maliwan assault and help Rhys regain control over the planet.
Maliwan soldiers were later encountered on the planet Nekrotafeyo, presumably after Tyreen shared its location to them. They cooperated alongside the COV in a final effort to prevent the Crimson Raiders from reaching the Great Vault.
Maliwan Units (Borderlands 3)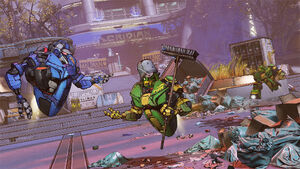 Infantry
Appeared in Borderlands 3:
Appeared in Designer's Cut Arms Race:
Bloody Harvest Haunted Infantry
Mechs
Appeared in Borderlands 3:
Appeared in Designer's Cut Arms Race:
Robots
Notable Units
Vehicles