Mad Moxxi is an NPC mission provider. She is the hostess of the Colosseum matches in The Underdome in Mad Moxxi's Underdome Riot, and the owner of various bars on Pandora.
Moxxi could be summed up with the words sadistic, lustful, alluring, and dangerous. She enjoys violence and combat, having been a skilled fighter in her earlier years. Modesty has little to do with Moxxi, especially when it comes to sex. Her affairs are innumerable and she has had several husbands, and her lovers have been both male and female. She is also surprisingly refined in her tastes and mannerisms, always speaking with a seductive tone and an innuendo soon following.
Moxxi, despite her violent tastes, is also friendly and rather compassionate when fighting is not involved. She is a caring mother, in her own Pandoran way, and can be protective of her children and others close.
Background
Moxxi was originally a member of the Hodunk clan. She grabbed her children and split from the Hodunks to prevent her daughter Ellie becoming the clan wife. Moxxi has been married at least three times to different husbands. She mothered a son, Scooter, with Jimbo Hodunk presumably back when she was part of the Hodunk clan.
Mr. Shank from The Secret Armory of General Knoxx is officially her second as she "mourns" the death of her "second husband" after Mr. Shank's death. Her third husband was Marcus Kincaid, as revealed in the mission Safe and Sound. She was also involved, at least sexually, with Lucky Zaford according to her son Scooter, but there is no indication as to whether or not he was one of her husbands. She created The Underdome to keep herself occupied while she searched for a new husband. She has also been involved in a relationship with Handsome Jack, as made evident in the Borderlands 2 side mission "Hell Hath No Fury". However, there is no evidence that they were ever married.
Involvement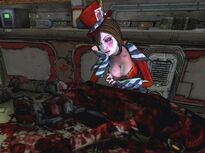 Mad Moxxi's Underdome Riot
Moxxi's first appearance is in her eponymous Underdome, where she acts as hostess and announcer.
The Secret Armory of General Knoxx
In The Secret Armory of General Knoxx she is part of the main mission line, and assigns missions from Moxxi's Red Light. As more is found out about her, she is revealed to be Scooter's mother. She offers a mission to deal with her second husband, Mr. Shank.
Borderlands 2
In Borderlands 2 Moxxi resides in Sanctuary. Sometime between the two games, she was involved with Mordecai after he won the Underdome, but left him because he was inattentive. Later she dated Handsome Jack, who destroyed the Underdome after she left him. From her bar in Sanctuary, she provides limited material support to the Vault Hunters and is involved in a handful of missions.
In Borderlands 2 and its DLCs, there are a number of Moxxi-themed Unique weapons which share the trait of healing the wielder for a portion of all damage done.
Mr. Torgue's Campaign of Carnage
Moxxi appears in Mr. Torgue's Campaign of Carnage, running the Badass Crater Bar and serving as the Vault Hunters' agent and sponsor once she is rescued from Pyro Pete. She oversees the Vault Hunters' progress through various challenges, arranging battles and even hiring Tiny Tina to help train the Vault Hunters. In the ending, Moxxi is heard negotiating with Mr. Torgue over signing ownership of the Torgue Arena to her, lest Torgue's shareholders find out about the illegal deathmatches he's been hosting.
Tiny Tina's Assault on Dragon Keep
Moxxi appears in Tiny Tina's Assault on Dragon Keep, again as a proprietress of a drinking establishment (this time a tavern). She plays a minor part in the story and offers a few optional missions, but has no major involvement in the campaign.
Mad Moxxi and the Wedding Day Massacre
Moxxi is the host of the fourth Headhunter episode, Mad Moxxi and the Wedding Day Massacre, in which she and Ellie attempt to set up a wedding between two Goliaths of the Zaford and Hodunk clans so as to bring peace to both sides.
Borderlands: The Pre-Sequel
Moxxi reappears as a major character in Borderlands: The Pre-Sequel, where she is the proprietor of the Up Over Bar in Concordia. Jack approaches her to help reclaim Helios from the Lost Legion, despite the fact that he and Moxxi are no longer romantically involved. Moxxi helps Jack and his Vault Hunters locate the jamming signal coming from Crisis Scar but is apprehensive about helping Jack further until it becomes clear that Colonel Zarpedon plans to destroy Elpis with the Eye of Helios. She also recruits former Vault Hunters Lilith and Roland to help Jack retake Helios. She does not join Jack or the Vault Hunters returning to the station, but she assists in remotely deactivating some of Zarpedon's defenses on Helios.
After Jack and the Vault Hunters defeat Zarpedon and reach the Eye of Helios, Moxxi instructs them on how to deactivate the superweapon. Fearing Jack's ambition and megalomania, Moxxi, Lilith, and Roland betray him and destroy the Eye but fail to kill Jack, who swears revenge. After this point, Moxxi disappears from the game.
Tales from the Borderlands
Moxxi does not appear in-person in Tales from the Borderlands, but her voice is heard in the first episode, Zer0 Sum, when Zer0 speaks to her over Echo after killing Bossonova.
Borderlands 3
Moxxi is featured in Borderlands 3 running her own bar aboard Sanctuary III. She also serves as a mission giver for side missions.
Moxxi's Heist of the Handsome Jackpot
She takes a more prominent role in Moxxi's Heist of the Handsome Jackpot in which she tasks the vault hunters to help her take over Handsome Jack's casino space station as a (late) revenge for destroying her Underdome. She reunites with Timothy Lawrence, Handsome Jack's doppelganger, implying there was some romance between them in the past.
Missions
Borderlands
The Secret Armory of General Knoxx
Main
Optional
Borderlands 2
Optional
Mr. Torgue's Campaign of Carnage
Main
Optional
Tiny Tina's Assault on Dragon Keep
Optional
Mad Moxxi and the Wedding Day Massacre
Borderlands: The Pre-Sequel
Main
Borderlands 3
Optional
Appearances
Quotes
Main article: Mad Moxxi/Quotes
Notes
Trivia
Media