Fire Emblem Warriors: Three Hopes - The Loop
Play Sound
[[Category:T-Bone Junction missions]]
Local Trouble is an optional mission in The Secret Armory of General Knoxx appearing after Super-Marcus Sweep. Completion of this mission will offer a third looting run of the armory, It's Like Christmas!.
Background
"It has come to my attention that Lockdown Palace has a bit of a leadership problem. I'd like to increase my, eh, influence there. Ex-cons are actually very hard workers, and you can pay them in cigarettes! I'd like you to go to Lockdown Palace and, eh, do some business for me. Let them know what Marcus is willing to do to, I mean, for them. And those little guys running around out there are really making it difficult to get to my vending machines. A few less of them and their filthy skags wouldn't hurt either. What? Is that a bit too unethical for you? I'll make it worth your while. How about another run through my warehouse. All the guns you can carry! What do you say?"
Walkthrough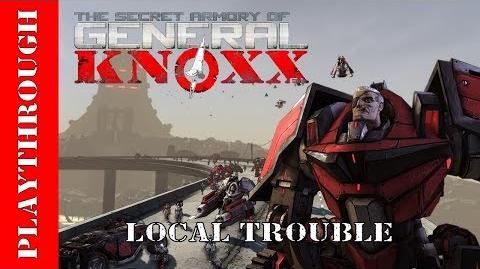 Objectives
Do Marcus's dirty work.

Kill Prisoners: 0/50
Kill Midgets: 0/100
Kill Skags: 0/25
Strategy
Lockdown Palace is primarily composed of narrow corridors. Prepare accordingly with strong medium-close range weapons.
Road's End provides a handful of Skag Riders near the lifts. These can help fill the quota of skags and midgets at the same time.
The Sunken Sea holds the midget-infested town of Midgetville on the north-eastern side for a high rate of midget slaughter, as well as a second midget-inhabited town on the northernmost tip of the map, below the highway and amidst some Lance Mines.
Completion
"A dirty bit of business, but I appreciate it. Enjoy your guns!"
Notes
Midgets from the vanilla game, Loot midgets, and Midget Zombies do not count. Only bandit midgets from The Secret Armory of General Knoxx count towards the midget tally.
King Wee Wee counts towards the skag count, despite being a midget.