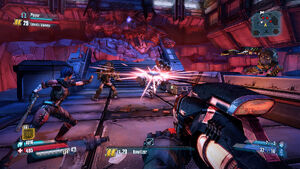 Lasers
are a separate weapon type first introduced in
Borderlands: The Pre-Sequel
.
Overview
With the exception of the E-GUN, all lasers spawn with an element (excluding Explosive), with Incendiary being the default and the most common. Although lasers are only produced by four manufacturers (Hyperion, Dahl, Tediore and Maliwan), each manufacturer produces a very different style of barrel and body which are interchangeable with all laser types, making lasers perhaps the most varied weapon type in the game.
Lasers have their own ammunition pool, depicted with a coil icon, with the size of the ammo pool being comparable to a submachine gun's pool.
Common
Body manufacturer

Barrel manufacturer

Dahl (Blaster)
Hyperion (Railgun)
Maliwan, Corrosive (Beam)
Maliwan, Cryo (Beam)
Maliwan, Incendiary (Beam)
Maliwan, Shock (Beam)
Tediore (Splitter)
Dahl
Blaster
Lazer Railgun
Scorpion Beam
Arctic Fox Beam
Beetle Beam
Eel Beam
Splitter
Hyperion
Revized Blaster;

Iterated Blaster

Rapier Railgun;

Lancer Railgun

Destabilizing Beam;

Deconstructor Beam

Glacier Beam;

Zero Beam

Convector Beam;

Afterburner Beam

Energizer Beam
Partitioned Splitter;

Subdivided Splitter

Maliwan
Accelerated Blaster
Photon Railgun
Venus Beam
Comet Beam
Mercury Beam
Polaris Beam
Dichotomized Splitter
Tediore
Repeater Blaster
Phazer Railgun
Paintstripper Beam
Coolstream Beam
Enkindler Beam
Spark Beam
Refracted Splitter
Weapon Barrels
A laser's Barrel gives the weapon its signature firing type.
Weapon Bodies
Depending on the manufacturer of the laser's body, a laser can spawn with manufacturer-specific gimmicks that either coincide well with the laser's barrel, or barely elevate its usage.
Community content is available under
CC-BY-SA
unless otherwise noted.