This article is about the Jakobs Representative Claptrap. For other uses, see

Jakobs Claptrap

.
The Jakobs Representative Claptrap is a special Claptrap from the Jakobs corporation. It appears in The Zombie Island of Dr. Ned DLC.
Location
This Claptrap is found in Jakobs Cove, but can only be found after completing Secrets and Mysteries. When it first appears, it will destroy Ned's Claptrap with a revolver.
Appearance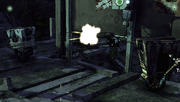 This Claptrap has wood paneling with brass decorations, following the traditional, old-fashioned Jakobs aesthetic. It keeps a few interesting items in its front tray, including a fine Jakobs revolver.
Quotes
"You've been most helpful so far. We require very little more of you. A simple premeditated murder, and you'll be on your way. Easie-peesie. Dr. Ned has become a liability. Take care of that liability and we'll clean up the mess and get that mill back to working order. There's gravy and biscuits in it for you, and by that I mean gobs of money. Take care. Oh! I almost forgot. You'll need this doo-dad to get the drawbridge to lower. Good luck!"
"Have you killed Ned yet?"
"It'll be nice when the mill is back up and running."
"Sometimes there's nothing like exposing a traitor to make your circuits all warm and fuzzy."
"Jakobs would like to thank all the suckers - I mean, generous people - that have helped eliminate the zombies!"
"Been a long time since I came back here. Feels like coming home again, except for the zombies."
"All this humidity is going to make me rot!"
Notes
Community content is available under
CC-BY-SA
unless otherwise noted.