| | |
| --- | --- |
| | "Look out, everybody, things are about to get awesome!" |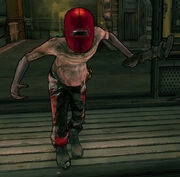 The Infected (occasionally referred to as Boils) are humans who have fallen victim to an affliction known as Space Hurps that infects the Veins of Helios. The Infected have since degenerated into a group of psychotic cannibals roaming the Veins of Helios in search of human flesh to consume. All Infected wear remnants of their old Hyperion uniforms and feature enormous boils infesting their skin.
Infected Units
Notable Infected
Quotes
Spotting Vault Hunters
"Kill them."
"That one looks delicious."
"I want to eat that."
"They sent us food."
In combat
"You know in cartoons where the character uses a drumstick because THIS IS EXACTLY LIKE THAT."
"Help me."
"Getcha, getcha, getcha, getcha."
"I was a really good employee."
Notes