New Pokemon Games - The Loop
Play Sound
| | |
| --- | --- |
| | "Look out, everybody, things are about to get awesome!" |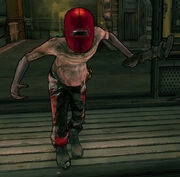 The Infected (occasionally referred to as Boils) are humans who have fallen victim to an affliction known as Space Hurps that infects the Veins of Helios. The Infected have since degenerated into a group of psychotic cannibals roaming the Veins of Helios in search of human flesh to consume. All Infected wear remnants of their old Hyperion uniforms and feature enormous boils infesting their skin.
Infected Units
Notable Infected
Quotes
Spotting Vault Hunters
"Kill them."
"That one looks delicious."
"I want to eat that."
"They sent us food."
"Chop them into tiny bits."
"Eat,eat,eat,eat,eat."
"No-one will hear you scream."
"Meal's here."
In combat
"You know in cartoons where the character sees his friend who looks like a drumstick because THIS IS EXACTLY LIKE THAT."
"Help me."
"Getcha, getcha, getcha, getcha."
"I was a really good employee."
"Zarpedons virus, Zarpedons murders."
"She planted the virus, SHE DID THIS TO ME."
"I didn't choose insanity, insanity choose me."
"Just let me eat you."
"Eat them, eat them."
"The bugs are in my brain."
"I hear the bug still."
"I'm famished."
"It's Zarpedons fault."
"Blame Zarpedon, not me."
"Time for space murder."
"SPACE MURDER."
"Statisfy my hunger."
"Always starving."
"Choke on it."
"They wormed in through my ears."
"Can I just eat your fingers."
"I'm too hungry."
"STARVING"
"The bugs are in my brain."
"I'M NOT CRAZY."
When Vault Hunter retreat:
"Don't leave."
"I miss you."
"NO, COME BACK."
Notes