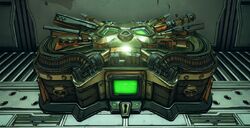 The Golden Chest is a unique lootable object located at Sanctuary in Borderlands 2, at Concordia in The Pre-Sequel, at both Fyrestone and New Haven in the GOTY Enhanced edition of Borderlands, and aboard Sanctuary III in Borderlands 3. They are opened by using a Golden Key. When the chest is opened it will spawn purple weapons, class mods, shields, and grenade mods. E-tech weapons as well as blue and purple relics can also spawn in the chest. After all of the items are collected, the chest will close. A player with more Golden Keys available can open the chest again for more loot.
Notes
If all the items are taken from the chest before it has completely finished opening, it will remain open and therefore cannot be opened again - this issue can be fixed by leaving and re-entering the area.
If the chest is opened, but the game is exited without being saved before the loot is collected, the key will not be restored.
Golden Chest loot will almost always spawn the same level items as the character used to open the chest.

On UVHM, spawned loot will always be a greater level than 6.

Below level 15, no relics or class mods will spawn. [citation needed]
The chest will never spawn pearlescent or legendary gear, nor will it spawn E-tech relics, except in the GOTY Enhanced edition of Borderlands and in Borderlands 3 where it is possible to get legendary gear from the golden chest.
Community content is available under
CC-BY-SA
unless otherwise noted.