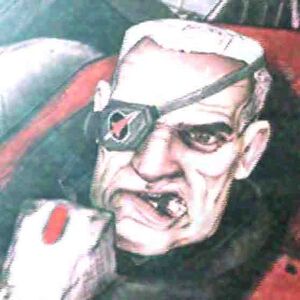 General Knoxx posts on Twitter under the username @GeneralKnoXX. The account was first active on February 2, 2010, and was confirmed to be an official source of information by Gearbox Software on February 9, 2010.[1]
His account officially went offline on March 14, 2010.[2]
On July 15, 2010, his account was reactivated.[3]
No activity since February 2011.
Archive (Jan. 2011 - Feb. 2011)
#

Date/Time
(UTC)
Text

From

In reply to

97
10:18 PM - 11 Feb 11
well @kevinacarter at least i don't look like helena bonham carter had a child with mike tyson's face tattoo.
TweetDeck
kevinacarter
96
10:06 PM - 11 Feb 11
*new-u even. stupid tweetergram machine. it time travels about as good as my last boss sold shoes. i.e. its hard when you're dead in a gutter
TweetDeck
95
10:04 PM - 11 Feb 11
oh please @Kaylila surely you've heard of the new- station. i practically own stock in it at this point.
TweetDeck
Kaylila
94
9:59 PM - 11 Feb 11
it smells fat in here. did somebody eat a multitude of skinny people?
TweetDeck
93
6:36 PM - 31 Jan 11
@MightySquid that's funny because i haven't missed you at all. you're like that cancer. you know, cancer?
TweetDeck
MightySquid
92
6:28 PM - 31 Jan 11
it's Tuesday here, and we're celebrating ridding our language of the insipid capital letter. on that day, the internet was fixed forever
TweetDeck
91
8:41 PM - 28 Jan 11
.@sinwar14 I never said she was alive.
TweetDeck
sinwar14
90
8:32 PM - 28 Jan 11
well, @sinwar14 mom jokes aren't common, i was pointing out our coital infidelity. i believe your century calls it "porking" #iporkedyourmom
TweetDeck
sinwar14
89
8:29 PM - 28 Jan 11
hey @sinwar14 that's not what your mother said last night when she tried on a pair of the boots. (that's all she was wearing.)
TweetDeck
sinwar14
88
8:25 PM - 28 Jan 11
okay, customer gone. poisoned. he wanted a size 8?? what kind of man wears a size 8? these are bullet proof boots, not garden sandals...
TweetDeck
87
8:17 PM - 28 Jan 11
what's this follow Friday nonsense? Friday was eliminated in the great human/gorok uprising in late 2100s. oops, have a customer here...
TweetDeck
86
10:28 PM - 27 Jan 11
@psychichazard how do you know about spacecake?!?!?
TweetDeck
psychichazard
85
10:22 PM - 27 Jan 11
for those wondering, i don't really fight so much anymore. my new job is selling corrective metal space boots for scoliosis patients
TweetDeck
84
9:14 PM - 27 Jan 11
also space tacos are pretty good, but i would stay away from space nachos. i got space chlamydia from those.
TweetDeck
83
9:12 PM - 27 Jan 11
.@e_marroquin who is duke nukem? is he the guy that owns the space burrito joint on farflax? space burritos > piddly earth burritos
TweetDeck
e_marroquin
82
8:18 PM - 27 Jan 11
no news to share, just came back to mock you all a second time. also i have a pretty great pork chop recipe
TweetDeck
81
8:07 PM - 27 Jan 11
the wonders of modern medicine, and by modern i mean the future RT @madzfox: @GearboxSoftware What the hell, you're alive?
TweetDeck
madzfox
GearboxSoftware
80
8:05 PM - 27 Jan 11
i'm back baby! let's trade phone numbers #phonecallstothefuturecostmoreexceptonverizon
TweetDeck
79
6:19 PM - 27 Jan 11
@GearboxSoftware i'm watching you guys now. whatever drunken duckbutt you got raping the keyboard over there, fire him (out of a cannon)
TweetDeck
GearboxSoftware
Archive (July 2010 - December 2010)
#

Date/Time
(UTC)
Text

From

In reply to

78
2010-12-11 4:54 PM
i already and obviously know who won the award because i'm in the future and you're not. which makes you suck more than you probably think
TweetDeck
77
2010-12-11 4:46 PM
so tune into spike TV to watch me win the awards for best dlc of the year and sexiest robotic jump kick.
TweetDeck
76
2010-12-11 4:46 PM
'sup from the future. capitalization still banned. apparently i'm up for an award tonight or something
TweetDeck
75
2010-08-06 9:51 PM
@C0nn0rmcl corruption from the wormhole i used to register my tweetergrams so far in the past on a distant world
web
C0nn0rmcl
74
2010-08-06 9:45 PM
@Barrymoves i know right? check that guy out. may not have capital letters in the future but we certainly understand how an apostrophe works
web
Barrymoves
73
2010-08-06 9:40 PM
@Platformgod my name was bequeathed to me on my grandfathers death bed (i put him there. stabbed him a lot.) knoxx means warrior of horses
web
Platformgod
72
2010-08-06 9:33 PM
@Watermanx you are wise beyond a babies years. your profile says you're a "collage student." paper mache is a major in your earth time?
web
Watermanx
71
2010-08-06 9:26 PM
@Watermanx you should cry like a small girlchild weeping over missing legs and arms. boo hoo.
web
Watermanx
70
2010-08-06 9:24 PM
@Watermanx odd, because i'm tweeting about you and you're not cool.
web
Watermanx
69
2010-08-06 9:06 PM
#unfollowfriday @reverendanthony for grievous fault against @mikeyface
web
68
2010-08-05 9:46 PM
you speak of @Legendrew with acclaim. i heard he sleeps with a teddy skag and can't read a book without farting. just a thing i heard
web
67
2010-08-05 9:39 PM
found an intruder snooping around the perimeter. information he obtained before i inverted his spine is shaky at best...
web
66
2010-07-19 12:58 PM
@SourMurderFish the best you could come up with was sourmurderfish? i eat those for breakfast, lunch and space dinner. murderfish plz
web
SourMurderFish
65
2010-07-15 9:46 PM
@Legendrew admiral mikey is no longer with us. he fell down some stairs. about 30,000 of them.
web
Legendrew
64
2010-07-15 9:42 PM
@phkna yup. pretty flimsy. did you get joke tips from ralphie may?
web
phkna
63
2010-07-15 9:28 PM
got an influx of flimsy insults wrapped in slack-jawed yokelry. #idiotsspamminggods
web
62
2010-07-15 7:04 PM
@KevinACarter your photo looks like a late night tv ad for a cheap lawyer
web
KevinACarter

61

2010-07-15 6:57 PM
@MMA_Craig the only thing you'll be raiding is your mother's underwear drawer looking for food.
web
MMA_Craig
60
2010-07-15 6:50 PM
@mikeyface they don't have capital letters in the future. where i'm from.which is nothing like that blue person movie with the dragon horses
web
mikeyface
59
2010-07-15 6:48 PM
tap. tap. is this on? had to turn my tweetergramming machine back on. just got some new orders. (sent from the future.)
web
Archive (Feb. 2010 - Mar. 2010)
This is a manually updated listing of all the tweets, with the times listed in UTC (+8 hours from Pacific time).
#

Date/Time
(UTC)
Text

From

In reply to

58
2010-03-14 10:17 AM
this is general knoxx, going offline.
web
57
2010-02-26 8:51 AM
@TehSkull ugh. admiral mikey's french toast is made of bread, sour patch kids from the future, and springs
Seesmic
TehSkull
56
2010-02-26 8:45 AM
@jigsawhc jelly is for girls and also armless smaller girls.
Seesmic
jigsawhc
55
2010-02-26 8:40 AM
@Hooligunn fool. killed some of my decoys did you? my imaginary son could do that with his imaginary eyes closed.
Seesmic
Hooligunn
54
2010-02-26 8:38 AM
anybody want toast? i'm making toast.
Seesmic
53
2010-02-26 8:38 AM
sorry tweetergram groupies, i got caught up with an influx of insurgent dick bags. killed most of 'em. how is your day?
Seesmic
52
2010-02-23 N/A
there are reports that the invasion is delayed until tomorrow. not true. don't believe the tweetergrams. i will rock all faces off today.
Seesmic
51
2010-02-23 N/A
troops will deploy today if all goes to plan. just met a man named mord-ee-kai. dude, eat something.
Seesmic
50
2010-02-23 N/A
preparing the troops for dominationing. might need reinforcements. anyone up for dying in my honor?
Seesmic
49
2010-02-22 22:30
@lizzieskwrl it's true. we lost the capital letter in the charzachary wars some forty decades ago.
web
lizzieskwrl
48
2010-02-22 22:28
(nobody tells me nothin.)
web
47
2010-02-22 22:27
well, time tables got all moved around. looks like the invasion is on tomorrow. be seeing you (and killing you!) then.
web
46
2010-02-19 22:21
i had to find an antique tweetergramming machine to type in capital letters like that.
Seesmic
45
2010-02-19 22:21
finishing up training the new assassin lance for more dominationing. they're not quite ready yet, but one might say they're COMING VERY SOON
Seesmic
44
2010-02-19 22:19
@HoboBeardBen demand something from me again and you'll be scraping whats left of your teeth out of your eyeballs.
Seesmic
HoboBeardBen
43
2010-02-19 22:17
@johnbelden you took a mans gamertag even though i'm from the future and already knew that?
Seesmic
johnbelden
42
2010-02-19 20:25
lots of people tweetergramming me today about some "interviews" with some hellfist character about me. apparently more incoming.
Seesmic
41
2010-02-18 17:28
just had marketing run some movie preview thing past me about myself. they called it a... trailer? but it didn't look like a truck to me.
Seesmic
40
2010-02-17 15:42
perhaps the lance will be open to recruitment. i need some solid fodder
Seesmic
39
2010-02-17 15:20
just spoke with my superiors and it sounds like we can begin recruiting again soon. the lance will rise again.
Seesmic
38
2010-02-16 17:20
@symonds1990 the day i tremble before the likes of one of you is the day i sell my mother to space pirates for a second time
Seesmic
symonds1990
37
2010-02-16 14:02
@pavieca do not speak at me as if battling me will result in anything but your body turning to a fine mist like a capri sun in a microwave
web
pavieca
36
2010-02-16 13:48
just got chewed on by my new commander for that t bone incident. no, i did not typed "chewed out" wrong so put your freud away.
web
35
2010-02-15 20:50
this wasn't me but something happened in t bone junction that totally wasn't me. (this wasn't me.)
Seesmic
34
2010-02-15 17:03
pretty sure i'd just go in shooting if there weren't all these pesky guidelines like "don't murder civies" by my new commanding officer.
Seesmic
33
2010-02-15 15:28
t bone junction is a haven for teenage partying.
Seesmic
32
2010-02-14 21:44
incoming ear ringer tweetergram photos. pulled them off of my former secre-friendy's charred carcus. rip cindy- wait, cynthia? i dunno.
web
31
2010-02-13 15:21
also met a man named scooter today. asked me if i wanted to catch his ride. almost killed him for coming onto me.
web
30
2010-02-13 15:19
walked around t-bone junction today.took some tweetergram photos.my secre-friendy needs to post them but i think she might be out dead today
web
29
2010-02-13 15:16
@StygianEmporor granted.
web
StygianEmporor
28
2010-02-11 01:50
avast! tweetergram leaks ahoy. people on the space machine web have discovered what level my power is. 60 just aint high enough.
web
27
2010-02-10 20:01
inspected the new recruits today. kyros, typhon, theron, and ajax had a four way tie for unmanliest name.
Seesmic
26
2010-02-10 15:55
began construction on a super secret hideout, sorry can't tell you where it is, did put up some signs though just in case recruits get lost
Seesmic
25
2010-02-10 13:51
@justryan13 roland? i remember him. did two tours of prometheus before wearing his guilt like a sun dress.
web
justryan13
24
2010-02-09 21:28
the admiral who ordered me to this roller rink of a planet was killed today in a freak sighing accident. replacement to be named. *sigh*
Seesmic
23
2010-02-09 17:22
//@# -- my secre-friendy just spilled coffee all over my tweetergram sender! ()#(/// ....!!!//3/3 great.
Seesmic
22
2010-02-09 17:07
@Quesos_Mojados your puerile attempts at humor bore me. i trust a skag will shit you out on a later occassion
Seesmic
Quesos_Mojados
21
2010-02-09 16:53
@jason_omega and i have two words for you: tooth and brush
Seesmic
jason_omega
20
2010-02-09 16:40
RT @useruser3: @GeneralKnoXX you have lost both mccloud and Steele |gn| that is classified! did you have something to do with that?
Seesmic
19
2010-02-09 16:33
corp. reiss has informed me of jakobs being overrun by a zombie infestation. serves 'em right! guns from wood? whats next, flying cars?
Seesmic
18
2010-02-09 14:16
this is my last tweetergram for the moment. i will be updating the situation on pandora to my superiors and taking cell ear ringer shots
web
17
2010-02-09 14:11
@CorduroryNinja the crimson lance is for serious rough and tumble soldiers, also suicidal thoughts are a plus
web
CorduroryNinja
16
2010-02-09 14:09
for those of you that promise nicely not to try and kill me for my numerous crimes against humanity and ferrets, i'll take photos of stuff4u
web
15
2010-02-09 14:05
my name is general alphonso knoxx, first general of the crimson lance, son of guillermo delphino knoxx III, consider this my introduction
web
14
2010-02-09 14:01
it seems some of you lot think it wise to anta-gah...niz-- make fun of me, i lost my train of thought, but i'll beat your asses
web
13
2010-02-09 00:56
@CaptBoDangles13 i have many things to do. i just arrived on pandora a few days ago. i get here and my second in command is skewered!
Seesmic
CaptBoDangles13
12
2010-02-09 00:38
RT @RnDxJha: @GeneralKnoxx So what is your take on Moxxi? |gk| is that the old chick in the clown makeup trying to not look 40?
Seesmic
11
2010-02-08 23:23
@VaultHunter thats your name? vaulthunter? didn't they find that already? more like @vaultfounder
Seesmic
VaultHunter
10
2010-02-08 23:06
@Legendrew watch your step boy. i lost my eye in a fight with myself . ps. i won
Seesmic
Legendrew
9
2010-02-08 23:01
@Kyidro do you bore your mother with that mouth (boosh, double entendre)
Seesmic
Kyidro
8
2010-02-08 22:53
RT @danielpiers: My lvl 50 Mordecai is gonna kick your ass. |gn| i'm a lot higher than level 50 so you better try again
Seesmic
7
2010-02-08 22:47
who are these people appearing on my window screen? @danielpiers ? your face looks like a grapefruit pooped
Seesmic
6
2010-02-08 22:40
i said that right? tweetergrams are when you take photos with your cellular ear ringer?
Seesmic
5
2010-02-08 22:39
heres a photo from worlds largest bullet. me & the misse- erhm, secretary are out taking tweetergrams of the areas
Seesmic
4
2010-02-03 20:42
these damn camera phones never seem to work. i'll have the inventor drawn, quartered, and made into cutlets.
Seesmic
3
2010-02-03 20:40
people are hacking into my tweeter database. smokescreen deployed. no one can see what we're planning. hot dogs are tastiest w/ mustard.
web
2
2010-02-02 09:17
no one capitalizes in the future. just thought you'd like to know in the event you point it out. oh, my tweets time travel, by the way.
web
1
2010-02-02 09:11
okay. so my secretary signed me up for this thing.apparently i have to be careful about how many words i type or it won't send the entire me
web
Images
Various images posted by General Knoxx.
Trivia
Knoxx claims that "nobody capitalizes in the future", and that his tweets time-travel. It is used as a running joke in some of his tweets. He claims to have needed to use an antique tweetergramming machine to type in capitals.
See Also
External links
References
Community content is available under
CC-BY-SA
unless otherwise noted.