This article is about the developers of Borderlands. For other uses, see

Gearbox

.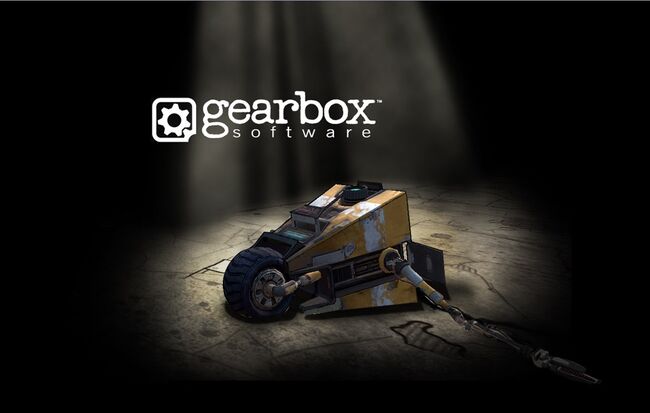 Gearbox Software is an American video game development company based in Plano, Texas.
History
Gearbox was founded by five members of the content team from the defunct developer Rebel Boat Rocker: Randy Pitchford, Brian Martel, Stephen Bahl, Landon Montgomery, and Rob Heironimus. Before Rebel Boat Rocker, Pitchford and Martel previously worked together at 3D Realms, and Montgomery previously worked at Bethesda Softworks.
Gearbox started with developing expansions to the game Half-Life. Porting Half-Life to console platforms (each with new game content) followed, building the company's experience in console game-making, in addition to enhancing and building upon the successful Counter-Strike branch of the Half-Life franchise. Prior to Half-Life 2, Gearbox had developed or helped develop every Half-Life expansion game or port, including Opposing Force, Blue Shift, Counter-Strike, Condition Zero, Half-Life for the Sony PlayStation 2 (Half-Life Decay), and Half-Life for the Sega Dreamcast. Branching out to other publishers, Gearbox pursued additional port work, each game being released with additional content, but this time from console to PC. These projects included Gearbox's first non-FPS, Tony Hawk's Pro Skater 3, and Halo: Combat Evolved, forging new publisher relationships with Activision and Microsoft Game Studios respectively. Additional new development, in the form of a PC game in the James Bond franchise (Nightfire) for Electronic Arts, also occurred during the company's initial 5-year period.
2007 brought announcements of new projects based on licensed film IPs, including the crime drama Heat and the science-fiction classic Alien. In the September 2007 issue of Game Informer, a new game franchise was revealed, the sci-fi shooter/vehicle combat game Borderlands, after which Gearbox CEO Randy Pitchford mentioned in an online interview that development on the Heat game had not yet begun, as the planned development partner for the project had gone under. This was followed by an announcement by Sega that Gearbox would be helming a new version of rhythm game Samba de Amigo for the Wii, a departure from their signature FPS titles.
In 2008, Gearbox CEO Randy Pitchford announced that the company was working on yet another major unannounced title, hinting that is was "huge".
October 2010 it was revealed that Gearbox Software had assumed the helm of the long awaited Duke Nukem: Forever project. Two other unnamed projects are linked on their site at the time of this writing.
Borderlands Development Team
Main article: Borderlands Development Team
Twitter
Gearbox Software uses Twitter under the username GearboxSoftware.
YouTube
Gearbox Software uses YouTube under the username gearboxsoftware.
Forum
Official forum at http://gbxforums.gearboxsoftware.com/
Gearboxity
Gearbox occasionally releases information via their Gearboxity Transmissions site.