Fyrestone is located in the Arid Badlands on Pandora. It is the first town encountered in the game; the bus seen in the opening cinematic drops off the newcomers just outside of the town gates. Dr. Zed - the first NPC to issue a mission - is the only encountered human resident of Fyrestone. The only other visible resident of Fyrestone is the Claptrap that initially acts as a guide to gain entry into Fyrestone.
History
Fyrestone was once a town predominantly housing Dahl's Pandoran mining force, but a rising bandit presence in the area caused the population to plummet from 273 down to a meagre 2. Graves litter the entrance to Fyrestone as testament to its fall from glory.
The town originally also had a mayor, but the title is now a hollow one; the last mayor of Fyrestone was murdered after a short stint in office, but many of his would-be successors had already fled or been killed, leaving the town leaderless.
Points of Interest
Missions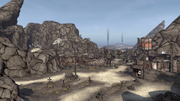 Notes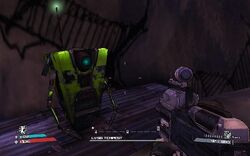 Trivia