| | |
| --- | --- |
| | "Look out, everybody, things are about to get awesome!" |
Frost Bottom is an area introduced to Borderlands 2 in How Marcus Saved Mercenary Day. This region of Pandora is not directly accessible via Fast Travel. One must go to Marcus' Mercenary Shop, located near the edge of The Dust. Marcus has an unexplained portal inside a wardrobe through which the characters can enter the area.
Points of Interest
Gingerton
Gingerton is the main town in Frost Bottom, located on the side of a mountain. The area has a decidedly traditional Christmas motif. The houses in town were designed to look like gingerbread houses and there are candy cane poles surrounding the tree in the center of town.
Frost Bottom Station
The train station resides on a hill overlooking Gingerton. It has a coal furnace which is used to heat the entire town.
Carol Corner
Carol Corner is an area on the hill south of Frost Bottom Station. As with the other areas outside of Gingerton, the buildings are of typical wood construction. Carol Corner is opposite the (frozen) river from Tinsel Waystation.
Tinsel Waystation
Tinsel Waystation contains the controls for the drawbridge which connects the railway from outside Frost Bottom to Gingerton. Bandits have seemingly taken over this area.
On Frozen Pond
On Frozen Pond is a frozen body of water north of Gingerton. Tinder Snowflake lives in the valley below the cliff where this pond sits.
Enemies
Missions
Weapon Chests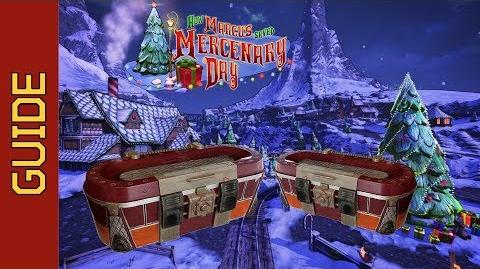 Excluding mission-specific or reward chests, there is a total of 3 Red Chests and 4 White Chests. Consult the map and the video guide for chests locations.
Notes
Marcus' Mercenary Shop and the entire region of Frost Bottom were designed as one playable map. The vending machines in Marcus' shop therefore incorrectly appear on the map as somewhere in Carol Corner when in fact they are "underneath" the hill.
The custom lootable containers in this area are gift boxes. There are several different sizes and colors, but each can hold multiple items.
Trivia
Community content is available under
CC-BY-SA
unless otherwise noted.