Is there any way to increase the ammo regen on the Rifleman Class Mod? If i have to use HxD thats fine, but i just need to know if it's possible how to do it. —Preceding unsigned comment added by Nothinglord (talk • contribs)
I hate to be that guy, but I'm going to be that guy.... You don't want ammo regen on a Rifleman mod. One point in Supply Drop and you're set. Get recoil reduction instead. Dämmerung 00:17, September 8, 2011 (UTC)
I meant to increase it above the max. Plus, that doens't help or answer my question. Nothinglord 00:54, September 8, 2011 (UTC)
Just change it to level 69, isn't that easy enough? lol Logisim 04:32, September 8, 2011 (UTC)
To answer your question, Borderlands modding does't really allow you to twist and bend the game any way you want: Just to create items with the BEST parts possible. At best, you can try to create objects with incompatible parts and see what happens, but I wouldn't recommend it. So... You can create a perfect level 55 (class Mods don't go higher) 660 Rifleman Class Mod: +45% Combat Rifle Damage, +4+3+3 in the skills Assault, Overload and Impact, and finally, either +195 Recoil reduction or +25 Ammo Regen. But you can't go higher.
But to add to what Dämmerung said, I say don't even bother with Rifleman at all. Heavy Gunner is all around better, even if you plan to use nothing but Rifles... happypal (talk • contribs) 09:08, September 8, 2011 (UTC)
Here is a willow tree item code for the rifleman class mod that I use. I'm not sure if it is sufficient.
gd_itemgrades.Gear.ItemGrade_Gear_ComDeck_Roland
gd_CommandDecks.A_Item.Item_CommandDeck_Roland
gd_CommandDecks.Body_Roland.Roland_Rifleman
gd_CommandDecks.LeftSide.leftside6c
gd_CommandDecks.RightSide.rightside6
gd_CommandDecks.ManufacturerMaterials.Material_Torgue_3
gd_manufacturers.Manufacturers.Torgue
gd_CommandDecks.Prefix.Prefix_Roland_Rifleman
gd_CommandDecks.Title.Title_ComDeckRoland
1
5
0
71
@ Lvl 51
@ Lvl 69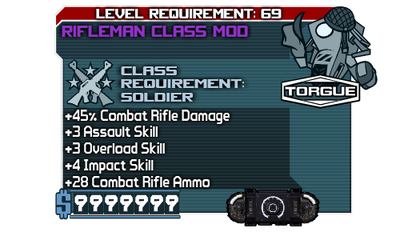 If it is pure ammo regen you are looking for Support Gunner might be better.
gd_itemgrades.Gear.ItemGrade_Gear_ComDeck_Roland
gd_CommandDecks.A_Item.Item_CommandDeck_Roland
gd_CommandDecks.Body_Roland.Roland_SupportGunner
gd_CommandDecks.LeftSide.leftside6b
gd_CommandDecks.RightSide.rightside6
gd_CommandDecks.ManufacturerMaterials.Material_SandS_3
gd_manufacturers.Manufacturers.SandSMunitions
gd_CommandDecks.Prefix.Prefix_Roland_SupportGunner
gd_CommandDecks.Title.Title_ComDeckRoland
1
5
1
53
@ Lvl 51
Jsachun 11:06, September 8, 2011 (UTC)