Ladys and Gentlemen, unfortunately I have to report to you that our new tempsop was caught red handed in the process of vandalism.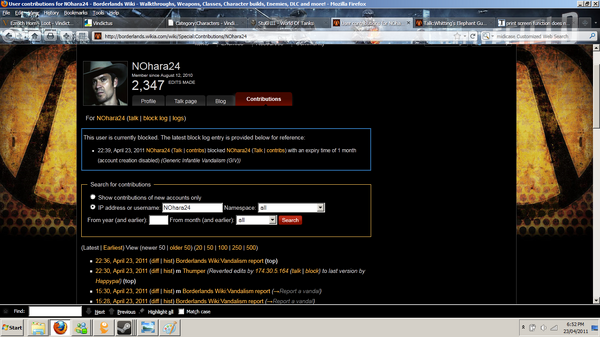 99.254.242.76 23:23, April 23, 2011 (UTC)
Accidental Discharge.

01:07, April 24, 2011 (UTC)
i believe we discussed this this very eventuality. could have sworn i voted no. lets see here. tally up the votes. nope, the nays have it. blocking oneself is, as always, disadvised.  The Evil Dr. F (Talk)15,792 Edits
This just made my day even though it was several days ago.  

  Skeve613ask Dr. Hax  18:09, April 28, 2011 (UTC)
Glad of to be service in capturing this iconic moment in the history of the BL wiki--

Talk

 

to

 

prinny!

  Riceygringo 03:47, April 29, 2011 (UTC)
Community content is available under
CC-BY-SA
unless otherwise noted.