Finger Lickin' Bad! is an optional mission in Claptrap's New Robot Revolution given by Hyperion Tourist Information Board.
Background
"The wild and dangerous Cluck-Trap has been sighted out in Sanders Gorge. If you kill this fowl red-and-white robotic menace, you can claim a delicious bounty."
Walkthrough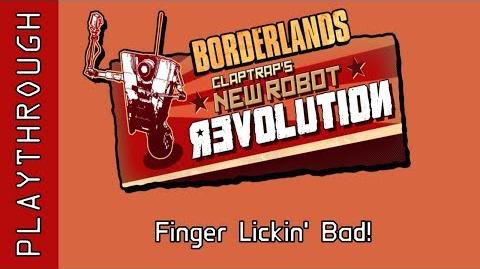 Objectives
Find and kill Cluck-Trap.
Strategy
The target is reached by following the middle tunnel with the torches. After some resistance from the revolution there is a large open area marked by the objective waypoint. A half dozen rakk may attack. Approaching the waypoint starts Cluck-Trap's intro. Once attacked, the deranged claptrap should fall almost immediately with little to no resistance.
Completion
"You caught the Cluck-Trap! Now do you want white metal or dark?"
Notes
Trivia
The name of the mission is a reference to the tagline "Finger lickin' good" of the KFC fast food chain.
Community content is available under
CC-BY-SA
unless otherwise noted.