Extreme Hangin' Chadd is a unique pistol in Borderlands 3 manufactured by COV. Extreme Hangin' Chadd is obtained from the mission Swamp Bro located in Floodmoor Basin, on Eden-6.
Special Weapon Effects
So Chadd's not even real? – Always incendiary. Fires 2 bullets per shot. Does not consume ammo. Significantly extended overheat limit. Fixed parts.
Usage & Description
The Extreme Hangin' Chadd works as a reasonable substitute for an incendiary Infinity.
It should be used for short to medium-range combat with hip fire as the flames around the sights makes it difficult to aim while scoped. The low accuracy of COV weapons makes long-range shooting impractical unless aiming at large enemies.
Notes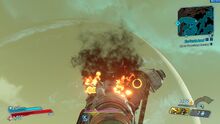 The Chadd synergizes well with elemental builds (the best example being Amara) or incendiary-focused skills (Moze). It also benefits from skills that increase gun damage the longer it is fired (Click, Click...).
The Chadd is an excellent utility weapon to refill pistol ammo if the player has a skill or anointment that regenerates pistol ammo. The Chadd can grant over 100 pistol ammo per second with only 15% ammo regeneration per second, for example. This can be done with Moze if she has a point in Redistribution or Forge, or any character using the Bloody Harvest exclusive ammo regen Terror anointment on a shield.

Paired with a Tediore weapon, such as the Baby Maker, Moze can reload and switch back to the Chadd to refill on ammo.

The Chadd can still be fired even if the character is out of pistol ammo.
FL4K can regain ammo when landing critical hits using the Leave No Trace skill, despite all other COV pistols not working with the skill.
As it is a mission reward, it cannot have an anointment.
Trivia
The name refers to a "Hanging Chad", which is a partially hole-punched ballot card (or chads) with its corners still intact.
The red text refers to a skit by the Derrick Comedy group where Donald Glover's character, upon realizing he was duped in an investigative sting, says: "So, Chadd's not even real? You guys just played me like a sap, for the big scoop?"
Community content is available under
CC-BY-SA
unless otherwise noted.