| | |
| --- | --- |
| | "Look out, everybody, things are about to get awesome!" |
The Excalibastard is a unique legendary laser manufactured by Hyperion.
Special Effect
Thou art most badass. – Spawns with all parts fixed, including Hyperion barrel, grip, stock, and sight; blade accessory; and Cryo element. Increased critical hit damage. Perfect (100.0) accuracy on weapon card. An enemy frozen then shattered with this weapon generates a Cryo elemental nova which freezes other nearby enemies.[1][citation needed]
Usage & Description
Notes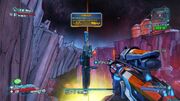 Excalibastard requires 2500 Badass Rank to pick up. It may only be taken once per character, across playthrough modes[1][citation needed], so it may be wise to wait until the level cap is increased.
Trivia
References