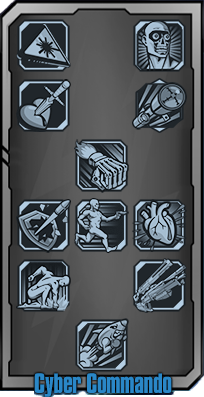 Cyber Commando is a Wilhelm's second skill tree, and it is focussed on upgrading Wilhelm himself for defensive purposes when his shield is depleted, and general damage enhancements. Strategically this skill tree provides minimal benefits towards Wolf and Saint, and consequently helps to maintain Wilhelm's combat effectiveness whether his surveyors are active or not.
Cyber Commando skills generally fall into three areas. Damage enhancements are offered by Laser Focus, First to Fight, Targeting Scope, Meteor Slam, and Welcome to the Gun Show. Defensive enhancements are split between the passive effect of Man and Machine, and other skills with triggered effects when Wilhelm's shield is depleted. The third bracket are his "cyborg augmentation" skills which add robotic parts to him. Power Fist is a melee override, Shock Absorbers allows Wilhelm to shoot while sprinting, and Vengeance Cannon is a supplementary attack triggered when Wilhelm's shield is drained.
His other skill trees are Hunter-Killer and Dreadnought.
Skills
Tier 1
Tier 2
Tier 3
Tier 4
Tier 5
Tier 6