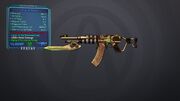 Cursed weapons and items
Curse of the Nefarious Backlash! - Every shot fired deals damage to the wielder's shield or health.
Curse of the Porcelain Fist! - the wielder takes increased damage from melee attacks.
Curse of the Elementals! - wearer takes increased damage from elemental sources.
Curse of the Cackling Designer! - spawns child grenades that seek out the thrower and detonates.
Curse of the Sudden-er Death! – reduces Fight for Your Life duration by approximately 3 seconds.
See Also
Community content is available under
CC-BY-SA
unless otherwise noted.