| | |
| --- | --- |
| | "Look out, everybody, things are about to get awesome!" |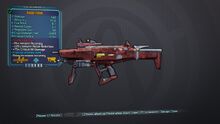 Cryo is an elemental damage type introduced in Borderlands: The Pre-Sequel. Cryo damage can appear on all weapons that are capable of having an elemental type (all manufacturers excluding Torgue, and to a degree, Jakobs).
Cryo elemental weapons are capable of slowing down and even freezing targets solid. Cryo damage is particularly good against nimble targets, where a cryo proc can slow down the enemy. Used against airborne targets cryo damage will cause the victim to drop to the ground if it freezes them, and the resulting impact often shatters them.
Effects
Enemies suffering a cryo status effect are slowly covered in ice until they freeze solid. In this state, the enemy cannot attack, nor can they move. The effect persists for 6 seconds, during which the frozen target will suffer damage over time.
Frozen enemies take +250% melee damage, +200% explosive damage, and +200% extra critical hit damage. The critical hit bonus applies to critical hits from cryo weapons as well, and is additive with most other critical hit bonuses.
Cryo attacks inflict full damage against both flesh and armored targets, but suffer a penalty against all shielded targets.
A cryo "frozen" status effect will slow down Vault Hunters struck by it, but will not freeze them completely.