Constructor bots are Hyperion made mobile robot factories. They can digistruct Hyperion loaders and surveyors until destroyed.
Constructors can appear as Badass Constructors that have an even higher amount of hit points than their regular counterparts, as well as having a number of autocannons on their bodies.
Strategy
Constructors have many forms of attack, including:
The main threat of a constructor is its ability to create an endless supply of loaders. The primary weakness of the constructor is its red eye in the front. Shooting its eye when it is digistructing a robot can interrupt this process. If surveyors are present, they should be destroyed promptly due to their tendency to recharge shields around the constructor and repair them. As with all robots, it is weak against corrosive weapons. The autocannons on a Badass Loader, like all such weapons, count as separate targets for purposes of getting Second Winds or triggering Zer0's B0re skill.
Even when not actively constructing loaders, constructors can cripple attackers in short order with rocket barrages, lasers, and the extremely damaging nuclear strike. Cover is therefore essential when battling them. Nukes can be shot in mid air before they can damage anyone.
One particularly effective strategy is to approach the constructor at moderately short range and fire repeatedly into the eye. Rockets cannot strike attackers at too close a range, and the constructor cannot pound targets more than a few feet away. Laser beams and nukes can still hit attackers standing in front of the constructor in this manner, but the laser is easily outmaneuvered and the nukes can be shot out of the air. Alternatively, a lone constructor can be whittled down slowly by attacking it from behind at close range to avoid its laser eye beams but not close enough to get hit by its ground slam shockwave. The constructor will be less likely to fire missiles if attackers are close and has almost no offensive options in such cases.
Notable Constructors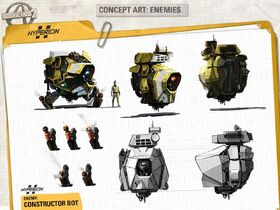 Notes
Trivia
See Also