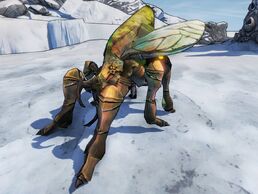 Chubby enemies are rotund variants of skags, rakk, spiderants, varkids, stalkers, midgets, and skeletons. They have abnormally high health and strength, as well as high experience and loot output upon death.
The spawn chance of chubby enemies is very low, whenever a badass enemy is spawned it has a rare chance of spawning as a chubby. This makes them very difficult to find in the wild, especially at lower levels and play modes.
Spawn Strategy
Due to their spawn nature, chubbies are more frequently encountered in areas that have a higher chance of spawning badasses and among enemies that are more frequently found as badasses, most notably varkids. Other factors such as the playthrough mode and the number of players in the game also work to increase the rate of badasses spawning, thus increasing the rate of chubbies spawning. A 4 player game will be much more likely to see a chubby enemy than a single player game.
Places that more easily spawn chubbies:
Notes

Killing a chubby enemy rewards players with the "Cute Loot" achievement.
In Ultimate Vault Hunter Mode, Chubby enemies become Tubby enemies.
All Chubby enemies have a chance to drop any of the pearlescent or legendary items (other than the Norfleet, the Ogre, or the "magic" grenades from Tiny Tina's Assault on Dragon Keep) and have an increased chance to drop legendary class mods, the Bunny, or Whiskey Tango Foxtrot.
On any spawn where a tubby spawning is possible, the chance of it occurring is approximately 0.5%.
Tubby Skeletons have a special drop pool for the Infinity pistol, and will drop it regularly, though not as often as Legendary Class Mods.
See Also
Community content is available under
CC-BY-SA
unless otherwise noted.