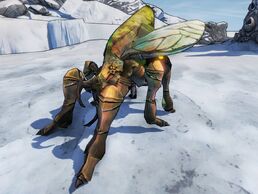 Chubby enemies are rotund variants of skags, rakk, spiderants, varkids, stalkers, midgets, and skeletons. They have abnormally high health, strength and experience and loot output when killed.
The spawn chance of chubby enemies is very low, whenever a badass enemy is spawned, it has a rare chance of spawning as a chubby. This makes them very difficult to find in the wild, especially at lower levels and play modes.
Spawn Strategy
Due to their spawn nature, chubbies are more frequently encountered in areas that have a higher chance of spawning badasses and among enemies that are more frequently found as badasses, most notably varkids. Other factors such as the playthrough mode and the number of players in the game also work to increase the rate of badasses spawning, thus increasing the rate of chubbies spawning. A 4 player game will be much more likely to see a chubby enemy than a single player game.
Places that more easily spawn chubbies:
Notes

See Also
Community content is available under
CC-BY-SA
unless otherwise noted.