| | |
| --- | --- |
| | "Look out, everybody, things are about to get awesome!" |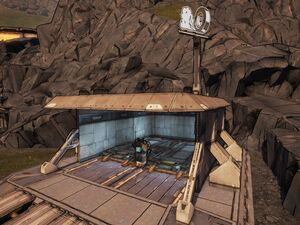 Catch-A-Ride stations are terminals that provide transportation in the form of different types of Digistructed vehicles.
Overview
The Catch-a-Ride system is run and maintained by Scooter. Stations become available early in Borderlands 2 and its DLCs after completing specific missions.
Angel will tell the Vault Hunters to get a vehicle at the Catch-a-Ride during the mission The Road to Sanctuary after first arriving in Three Horns - Divide.
Using the Catch-a-Ride
When interacting with the Catch-A-Ride menu, players can choose to spawn up to two vehicles of the same type by choosing either Vehicle 1 or Vehicle 2 and then selecting Spawn Vehicle. If other types of vehicles have become available, players will first have to choose the vehicle type they want to use. The selection panel will also offer options to change the mounted weapon type, skin (paint) for the vehicle and instantly teleport to a previously spawned vehicle.
Up to two vehicles may be spawned in an area at any given time. It is not possible to spawn two vehicles of different types. Spawning one type of vehicle, then returning to the Vehicle Type menu and choosing a different type of vehicle, will cause any vehicles in the area to de-spawn.
Unoccupied vehicles will remain at their last position only while players are in the area, during which time they can choose the Teleport option from any Catch-A-Ride station to reach it instantly. They will not persist when players travel to a different area, meaning those unoccupied vehicles will have disappeared when players return. Transitioning between areas while in a vehicle is allowed as long as players can drive up to the area marker, however, driving vehicles may not always be allowed in the next area, in which case the vehicle will not appear and characters will be on foot.
Notes
If a vehicle is left somewhere and a player uses "Spawn Vehicle" to recreate it at their current location, it will actually bring the existing vehicle to the Catch-A-Ride rather than generate a new one. This includes any battle damage that may be affecting the vehicle at the time.
See Also
Community content is available under
CC-BY-SA
unless otherwise noted.