GTA: The Criminal Enterprises - The Loop
Play Sound
[[Category:Hallow's End missions]]
Braaaaaaaaaaaains is one of optional missions of the "Brains" series involving Zombie T.K. Baha in The Zombie Island of Dr. Ned.
Background
"TK still needs brains. Apparently a lot of them."
Walkthrough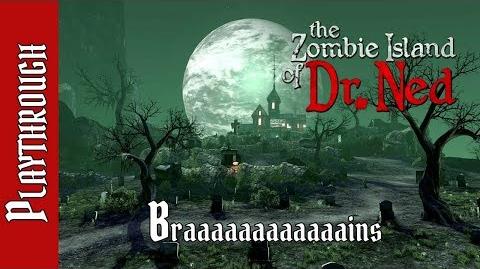 Objectives
Get TK a boatload of brains to eat.
Strategy
The objective is to kill zombies with head shots, collect 100 of the brains that fall, and return them to Zombie TK Baha.
Completion
"You gave him a bunch of brains. He appears to be coughing up an item..."
Notes
"Braaaaaaaaaaaains", that's spelled with 12 'a's, is all TK can talk about.
As long as a player stays in a zone, the brains that drop from zombies will remain on the ground until picked up. Therefore, if a player has completed the mission, with characters in Hallow's End, the extra brains can be left on the ground for the next Brains mission.
See Also