| | |
| --- | --- |
| | "Look out, everybody, things are about to get awesome!" |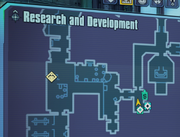 Benjamin Blue is a friendly skag found asleep and locked inside a cage in Research and Development within Borderlands: The Pre-Sequel. Deactivating four stomp pads hidden in various areas of Research and Development unlocks his cage.
Involvement
Benjamin Blue remains asleep inside his cage at all times until all four stomp pads are disabled. Approaching his cage after they are all disabled will cause the bars to lower and Benjamin Blue to stand up with a 'pet' prompt appearing on-screen when the Vault Hunter is near him. The first few pets will be met with a happy roar from him, with the final pet resulting in him regurgitating a small number of random items before going back to sleep.
Stomp Pad Locations
At the northernmost part of the aquarium section, behind a box that spawns Lost Legion troops - visible on the map as a small diamond above an empty portion of the map shaped like a square.
Inside Lab 19 (only accessible during/after the mission Lab 19), on the floor between the computer consoles and the southern wall.
Inside the room with two Hyperion chests (above where Doctor Grayson is found during Science and Violence), hidden behind a small wall outcropping on the southern side of the room.
Inside De Quidt Synaptic Processing (the small collection of rooms that Doctor Torres lets you into during Science and Violence - roughly in the centre of the map), hidden behind the large square schematics table and the western wall.
Appearances
Notes
The 'pet' prompt can occasionally not appear when his cage opens, meaning he cannot be petted. Exiting and reentering Research and Development and re-slamming the stomp pads corrects this.
After he has been petted once, and the area has been reloaded by quitting, it is possible to pet Benjamin Blue through the bars without having to unlock his cage via the stomp pads.
Community content is available under
CC-BY-SA
unless otherwise noted.