Line 1:
Line 1:
 
+

{{stub}}

−

BALEX is the on-board navigation AI for the Jakobs' abandoned ship ''The Family Jewel.''

 
 
+

{{Character

 
+

|Box Title = BALEX

 
+

|Image = [[File:BALEX.png]]

 
+

|Caption =

 
+

|Character Type = NPC

 
+

|Type Clarifier =

 
+

|Character Type2 =

 
+

|Type2 Clarifier =

 
+

|Gender = Male

 
+

|Race = Artificial Intelligence

 
+

|Group Affiliations = [[Crimson Raiders]]

 
+

|Game = Borderlands 3

 
+

|Game2 =

 
+

|Game3 =

 
+

|Voice Actor = Ice-T

 
 
 
+

|Intro = '''BALEX''' is an NPC featured in ''[[Borderlands 3]]''. He serves as the on-board navigation AI of the [[Sanctuary III]].

−

== Background ==

 
 
+
−

BALEX is acquired during the mission [[The Family Jewel]] where he guides you through the ship while arguing with [[GenIVIV]], BALEX's ex-girlfriend and the defense AI for ''The Family Jewel.''

+

BALEX is acquired during the mission [[The Family Jewel]] where he guides through the ship while arguing with [[GenIVIV]], BALEX's ex-girlfriend and the defense AI for The Family Jewel.

 
+
 
+

|Involvement =

 
+
 
+

|Custom Header =

 
+

|Custom Data =

 
+

|Appearances = *[[Borderlands 3]]

 
+

|Strategy =

 
+

|Mission = [[The Family Jewel]

 
+

|Quotes = {{main|BALEX/Quotes}}

 
+

|Notes =

 
+

|Trivia =

 
+

|See Also =

 
+

|External Links =

 
+

|Nav =

 
+

}}

 

[[Category:Borderlands 3 characters]]

 

[[Category:Borderlands 3 characters]]
---
Revision as of 07:32, 14 October 2019
| | |
| --- | --- |
| | "Look out, everybody, things are about to get awesome!" |
{{Character |Box Title = BALEX |Image =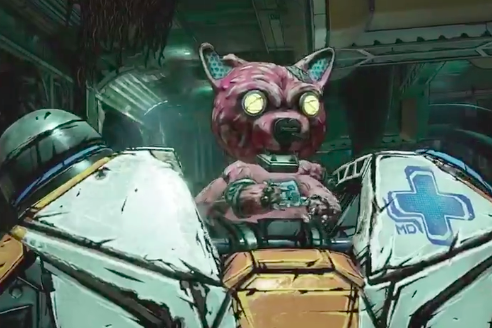 |Caption = |Character Type = NPC |Type Clarifier = |Character Type2 = |Type2 Clarifier = |Gender = Male |Race = Artificial Intelligence |Group Affiliations = Crimson Raiders |Game = Borderlands 3 |Game2 = |Game3 = |Voice Actor = Ice-T
|Intro = BALEX is an NPC featured in Borderlands 3. He serves as the on-board navigation AI of the Sanctuary III.
|Background = BALEX is acquired during the mission The Family Jewel where he guides the vault hunter through the ship while arguing with GenIVIV, BALEX's ex-girlfriend and the defense AI for The Family Jewel.
|Involvement =
|Custom Header = |Custom Data = |Appearances = *Borderlands 3 |Strategy = |Mission = [[The Family Jewel] |Quotes =
Main article: BALEX/Quotes
|Notes = |Trivia = |See Also = |External Links = |Nav = }}
Community content is available under
CC-BY-SA
unless otherwise noted.