This article is about the shotgun in Borderlands 3. For other uses, see

Anarchy

.
Anarchy is a legendary shotgun in Borderlands 3 manufactured by Tediore. It can be obtained randomly from any enemy that appears in Guns, Love, and Tentacles, but has an increased chance of dropping from Kukuwajack in Negul Neshai.
Special Weapon Effects
The stacks... THE STACKS! – Every kill or automatic reload grants a 30% damage bonus and reduces accuracy. Damage bonus is multiplicative and stacks up to 10 times. It is reset if the weapon is reloaded manually or put away. It is also reset if the user is downed, changes zones, or enters Iron Bear. Base damage type is always splash. Projectiles ricochet off the environment once towards enemies. Critical hits ricochet towards enemies.
Usage & Description
This weapon aims to replicate an Anarchy-based playstyle from Borderlands 2, giving the gun a gradual increase in damage in exchange for some accuracy. It accomplishes this extremely well, with high stacks allowing the shotgun to deal abnormally high damage that can even exceed rocket launchers. Weapon does not work very well at point-blank range as splash will damage the user. Shooting at long ranges even with high stacks still works when scope is used.
Users should aim to empty the magazine repeatedly and keep the gun out as often as possible, as the damage bonus is reset when it is switched out. The reload mechanic should also be considered, as some versions may use the "explode when shot" module and cause the user to lose all stacks from accidental downs.
Notes
The Anarchy is currently bugged for Zane if he has points in Double Barrel and uses Digi-Clone. The digi-clone will spawn without a weapon and will only use melee attacks.
The damage bonus can be stacked up to 10 times. It is multiplicative so 10 stacks will result in 1370% damage increase. As stacks are gained, the Anarchy gains a black and red pulsing outline. That outline stays on zone change, but stacks are set to 1. Consecutive travel will reset it to 0.
Anarchy deals splash damage, but projectiles are not explosive. Shooting point-blank at environment will not damage the user, but doing the same with enemies will.
Each bullet from the Anarchy appears as a flaming line, and the screen shakes whenever the gun is fired.
As the damage gain from stacks will matter significantly more than the gun's base damage, it is best to farm for an Anarchy with lower magazine sizes instead of higher damage per pellet, to gain maximum stacks as fast as possible.
This gun works well for a Moze character specced with ammo regen. The user can kill chains of enemies with the ammo regen removing the need to reload, leading to stacks building quickly and making the weapon deadly against mobs.
Zane can significantly reduce the accuracy penalty of high stacks with the use of Confident Competence and Nerves of Steel.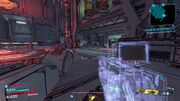 Trivia
The flavor text and special effect are a reference to Gaige's Anarchy skill in Borderlands 2. Its ricocheting bullets are based off a standard Anarchy build, which involves use of the Close Enough skill to offset Anarchy's harsh accuracy decrease.
Community content is available under
CC-BY-SA
unless otherwise noted.